On Leave
July 01, 2021

to

June 30, 2022
Areas of Interest
Baroque art and architecture
The historiography of art
Biography
My research and teaching focus on three interrelated areas of concern:  global baroque art and architecture (European and Latin American), with a particular interest  in the Jesuit order; the work and biographical legacy of the Italian baroque sculptor Gian Lorenzo Bernini and his milieu; the history of art history, especially the concept of the Baroque in the German-language literature and with a particular interest in how politics have shaped the discipline. Projects that I have recently concluded include the multi-disciplinary volume co-edited with historian Kenneth Mills called The Lexikon of the Hispanic Baroque: Transatlantic Exchange and Transformation (University of Texas, 2014) which shows the dynamic processes of mutual transformation across the Atlantic world of the long Hispanic Baroque. My second monograph, Baroque and the Political Language of Formalism (1845-1945): Burckhardt, Wölfflin, Gurlitt, Brinckmann, Sedlmayr shows how political events, political thought, and the political beliefs of art history's protagonists shaped their concepts of the Baroque. I have also published an edited volume, Material Bernini (co-edited with Carolina Mangone) one of three edited volumes on the work of Bernini that arose from conferences held at the U of T in conjunction with my seminars). And in 2015, a new English translation and critical edition of Heinrich Wölfflin's classic work, Principles of Art History (translated by Jonathan Blower and co-edited with T. Weddigen, Getty 2015) appeared on the occasion of the 100th anniversary of publication. In the next few years I continue to work, together with Prof. Dr. Tristan Weddigen of the University of Zurich, on a large collaborative research project funded by a SSHRC Insight grant on the reception of Wölfflin's book, from Beijing to Argentina, as an optic on the history of the discipline 1915–2015 worldwide. I also continue to work on projects on Latin American colonial art and am developing a project on early modern intermediality.
Selected Publications
Co-edited with Carolina Mangone. Material Bernini. London: Routledge, 2016.
Baroque and the Political Language of Formalism (1845–1945): Burckhardt, Wölfflin, Gurlitt, Brinckmann, Sedlmayr. Basel: Schwabe, 2015.
Heinrich Wölfflin, The Principles of Art History: The Problem of the Development of Style in Early Modern Art. Trans. Jonathan Blower. Ed. Evonne Levy and Tristan Weddigen. Los Angeles: Getty Research Institute, 2015.
Propaganda and the Jesuit Baroque. Berkeley: University of California Press, 2004.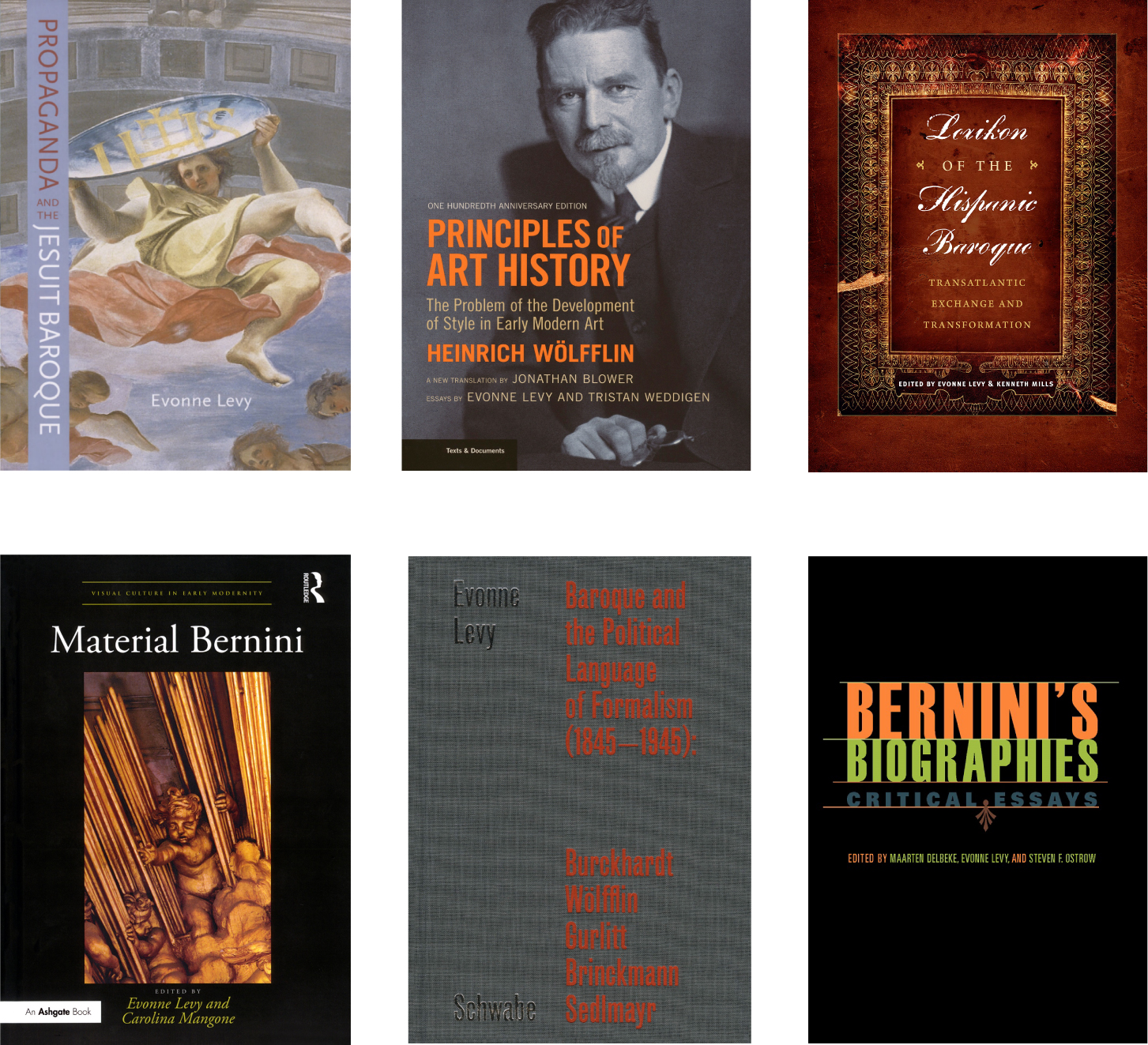 Education
PhD, Princeton University, 1993