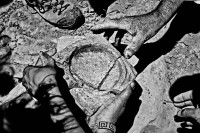 Photo by Kostis Voutirakis, site of Palaikastro, 2014, courtesy of British School at Athens excavations.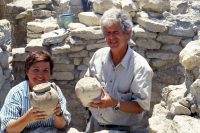 Joseph and Maria Shaw holding Minoan pottery recovered from a house at Kommos.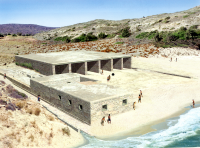 Restored shipsheds at Kommos, Crete, for storing long rowed ships of the Minoan fleet.
Graduate study in Ancient Art at the University of Toronto concerns the material, artistic, and visual cultures of the ancient Mediterranean. Our faculty and students work on topics ranging from the archaeology of Minoan Crete, Greek vase painting and sculpture to Roman art from Augustus to Constantine. Spanning both prehistory and Classical archaeology, we employ a great diversity and heterogeneity of approaches and methods, some of which are intrinsic to the discipline and have historically evolved in an engagement with the objects they seek to explain; others are shared with or appropriated from related fields in art history, anthropology, and other social sciences. In the ancient art graduate program, students thus engage with a variety of methodological approaches depending on their subfields, from cutting-edge scientific methods in archaeology to critical theories in visual and cultural studies. Meanwhile, we also encourage cross-disciplinary training in the related fields of Classical studies, including ancient history and philology, epigraphy and numismatics, as well as philosophy.
The Department has a background in archaeology, especially that of the Greco-Roman area. Homer Thompson, for instance, took charge of excavation in the Athenian Agora. Later, J. Walter Graham became an expert on Greek housing before turning to the Minoan Palatial world; and Frederick Winter excelled in his knowledge of Greek Hellenistic architecture. More recently, Joseph W. and Maria C. Shaw discovered a unique prehistoric Minoan port at Kommos in Crete, which became the first large-scale Canadian excavation in Greece. For more information visit the extensive Kommos Excavations website. The Kommos site has now been published completely in ten volumes. The excavators continue to develop the site for its eventual opening to the public.
The faculty members in ancient art represent four main areas: Carl Knappett (Aegean prehistory), Philip Sapirstein (Architecture), SeungJung Kim (Greek), and Björn C. Ewald (Roman). Our research areas are diverse, but are united by a common interest in ancient spatialities from the local to the global, concepts of time and temporality and their relationships to the visual arts, art and subjectivity, phenomenological approaches to ancient art, and the ontological standing of ancient material and visual culture.
Graduate coursework in the field of ancient art seeks to engender and enhance a critical understanding of art and artefacts in their materiality as well as in their broader political, social and ritual contexts; of the ideological implications of art and architecture as well as their emotional investments; of their temporality and narrative; and of urbanism and spatiality. Our graduate courses usually have a conceptual or theoretical orientation that makes them well suited for students of other fields and periods of art history. Graduate students in ancient art also have the opportunity to take part in fieldwork in the Mediterranean, work in the Aegean Material Culture Laboratory, and participate in the numerous seminars offered by the new Archaeology Centre. Robarts Library has superb resources for the study of ancient art, and the nearby Royal Ontario Museum (ROM) houses collections of Aegean Bronze Age, Greek, and Roman material.
Useful Links