Professor, Walter Graham/Homer Thompson Chair in Aegean Prehistory
Campus
Downtown Toronto (St. George)
Areas of Interest
Ancient (Aegean Bronze Age)
Biography
I specialize in the Aegean Bronze Age, and Minoan Crete in particular. My main focus currently is the east Cretan site of Palaikastro, where I direct a new excavation project. I continue my research on pottery from a number of other Aegean sites, such as Knossos, Malia, Myrtos Pyrgos, Akrotiri, and Miletus. This multi-sited approach has led me into various kinds of network analysis for investigating regional interactions. My work on pottery relates to an interest I have in material culture generally, and the methodological and theoretical challenges involved in its study. In terms of teaching, my undergraduate classes focus on the east Mediterranean and Aegean in prehistory, and at the graduate level I have offered both specific Aegean topics, and wider explorations of material culture theory.
Websites
Current Research
Creativity in Minoan Art
Interaction networks in the Aegean Bronze Age
Palace and Landscape at Palaikastro
Knossos and Crete during the early Neopalatial period
Selected Publications
Knappett, C. 2020. Aegean Bronze Age Art: Meaning in the Making.Cambridge: Cambridge University Press.
Leidwanger, J. and C. Knappett (eds), 2018. Maritime Networks in the Ancient Mediterranean World. Cambridge: Cambridge University Press.
Letesson, Q. and C. Knappett (eds), 2017. Minoan Architecture and Urbanism. Oxford: Oxford University Press.
Kiriatzi, E. and C. Knappett (eds), 2016. Human Mobility and Technological Transfer in the Prehistoric Mediterranean. British School at Athens Studies in Greek Antiquity 1. Cambridge: Cambridge University Press.
Knappett, C. and S. van der Leeuw, 2014. A developmental approach to ancient innovation: the potter's wheel in the Bronze Age East Mediterranean, Pragmatics and Cognition 22(1), 64–92.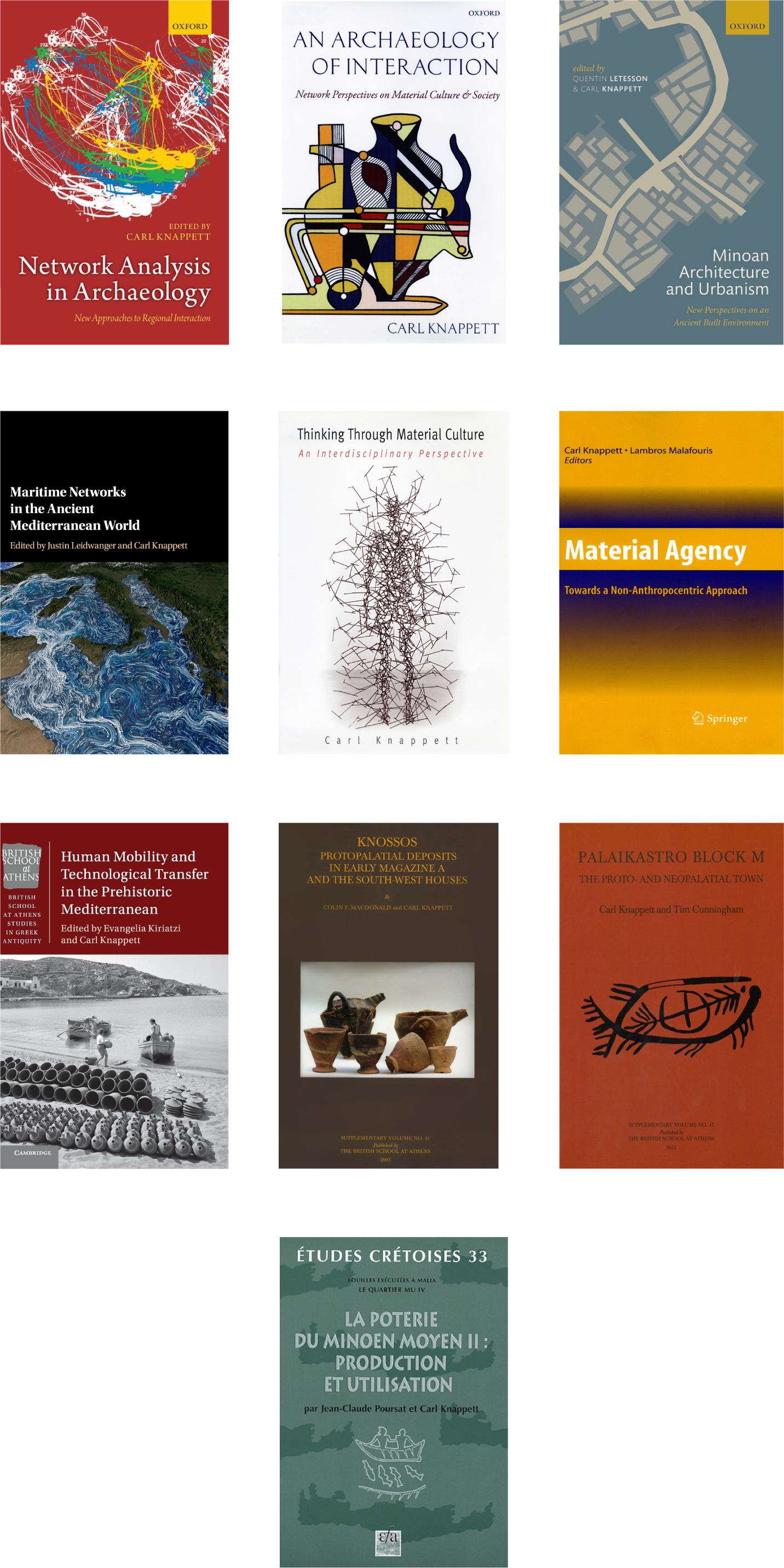 Education
PhD, University of Cambridge, 1997
Administrative Service
Chair, Department of Art History, 2017-2022
Graduate Chair, Department of Art History, 2017-2022
Associate Chair, Graduate Studies, Graduate Department of Art, 2014-15