Sidney Smith Hall, Room 6055
Campus
Downtown Toronto (St. George)
Fields of Study
Architecture
Modern/Contemporary Art
Areas of Interest
Architecture since the 18th century
European architectural theory
Romanticism in architecture
Media theory and architecture
Sound art
Biography
I tend to approach modern architecture through the question of disciplinarity—that is, the theories, methods, and forms of representation that have defined architecture as a distinct field of knowledge and practice over the past 250 years. My research also frequently draws on media theory to explore how architectural ideas are represented and disseminated, and how buildings themselves facilitate communication. My book Echo's Chambers: Architecture and the Idea of Acoustic Space (University of Pittsburgh Press, 2021) shows how the imperative to mediate sound in buildings has challenged European systems of architectural thought since the Enlightenment.
Currently, my main research project interprets open-plan offices of the 1960s as communication systems, focusing on how acoustic debates influenced their conception, spatial planning, visual styling, and usage. Another current project revisits some of the claims made in the 1970s and 80s for the autonomy of the architectural discipline. I read these theories not as expressions of political indifference or conservative aestheticism, but of a liberal belief in procedural rigour and a skepticism toward utopian visions. Finally, I am interested in the idea of the sacred in modern architecture.
My teaching and graduate supervision at the University of Toronto span various topics in nineteenth- and twentieth-century architecture. I organize the Architectural History Working Group and co-organize the project Canada Constructed: Architecture, Landscape, History. Before becoming an art historian, I was trained as a designer and practiced architecture at Eisenman Architects and Skidmore, Owings & Merrill.
Recent Courses
Acoustic Space (graduate)
Architecture and the Project of Industrial Modernity (graduate)
Modern Architecture from 1750 to the Present (undergraduate)
Art and Ideas: The City Seen (undergraduate)
Selected Publications
Echo's Chambers: Architecture and the Idea of Acoustic Space (University of Pittsburgh Press, 2021).
"That Great Brouhaha: Picturing Sound in Nineteenth-Century France," in Impressionism in the Age of Industry, ed. Caroline Shields (New York:
Prestel, 2019), 50–9.
"Catacoustic Enchantment: The Romantic Conception of Reverberation," Grey Room 60 (Summer 2015): 36–65.
"How Not To Be 'Theatrical': Émile Jaques-Dalcroze, Adolphe Appia, Le Corbusier," in Music in Architecture—Architecture in Music, ed. Michael Benedikt (Austin: Center for American Architecture and Design, 2014), 102–113.
"Iannis Xenakis and the Philips Pavilion," The Journal of Architecture 17:2 (April 2012): 213–229.
Honours/Awards or Grants Received
Research Fellow, Canadian Centre for Architecture (Montreal), 2021
Learning & Education Advancement Fund Grant, University of Toronto, "Canada Constructed: Teaching Canadian Architectural History," 2020–23 (with Christy Anderson)
SSHRC Insight Grant, "Open Office Design and the Acoustics of the Knowledge Economy, 1960–1980," 2018–22
Visiting Scholar, Max Planck Institute for the History of Science (Berlin), 2018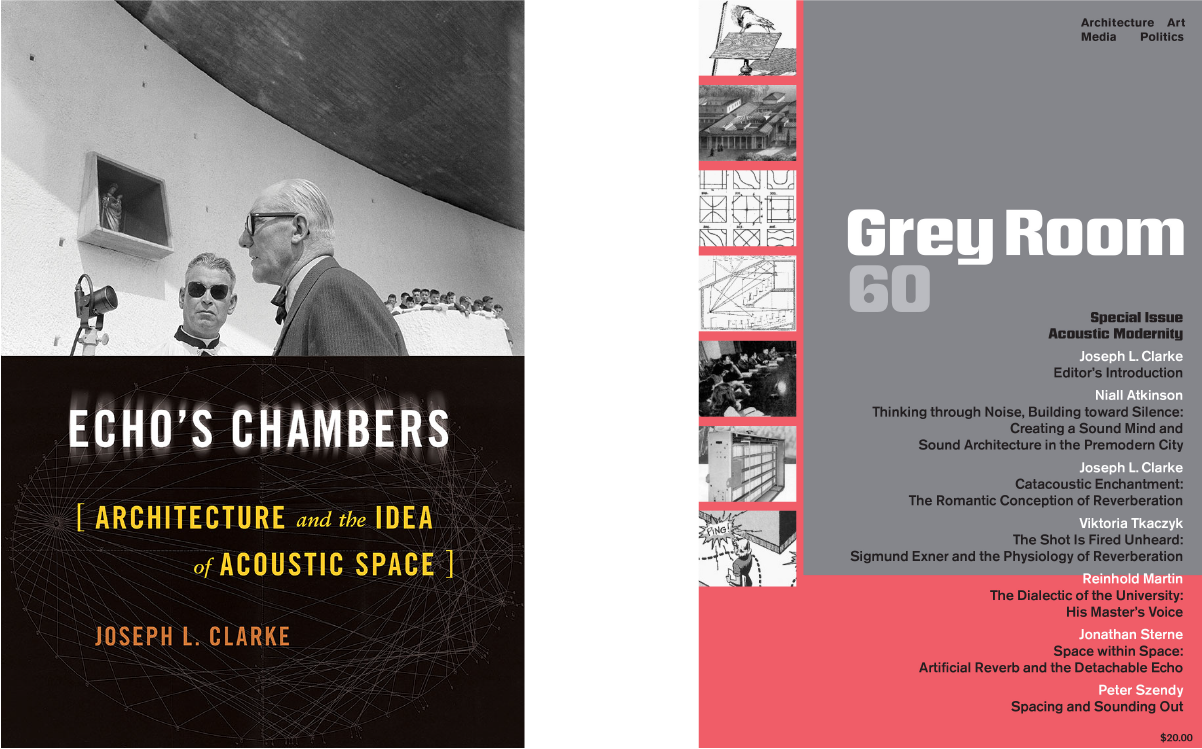 Education
PhD, Yale University, 2014
MArch, University of Cincinnati, 2006