Sidney Smith Hall, Room 6055
Campus
Downtown Toronto (St. George)
Fields of Study
Architecture
Modern/Contemporary
Areas of Interest
Architecture since the 18th century
European architectural theory
Romanticism in architecture
Media theory and architecture
Sound art
Biography
I tend to approach modern architecture through the question of disciplinarity—that is, the theories, methods, and forms of representation that have defined architecture as a distinct field of knowledge and practice over the past 250 years. My research also frequently draws on media theory to explore how architectural ideas are represented and disseminated, and how buildings themselves facilitate communication. 
My book Echo's Chambers: Architecture and the Idea of Acoustic Space (University of Pittsburgh Press, 2021) shows how efforts to control sound challenged Western systems of architectural thought from the early Enlightenment through the mid-twentieth century. It is the first major English-language study to explore how acoustic experimentation has been entangled with debates over typology, form, visualization techniques, and similar issues at the core of the discipline.
Currently, my main research project examines open-plan offices of the 1960s in relation to debates over communication, teamwork, and aesthetics. For a parallel line of research, I am studying expressions of the sacred in modern and contemporary architecture. Another current project revisits claims made in the 1970s and 80s for the autonomy of the architectural discipline, as expressing the liberal values of procedural rigour and skepticism of utopian visions.
Before becoming an art historian, I was trained as a designer and practiced architecture at Eisenman Architects and Skidmore, Owings & Merrill. At the University of Toronto, my teaching and graduate supervision span various topics in nineteenth- and twentieth-century architecture. I organize the Architectural History Working Group and co-organize the project Canada Constructed: Architecture, Landscape, History.
Recent Courses
Introduction to Modern Architecture (undergraduate, FAH272)
Architectural Modernism, 1890-1968 (undergraduate, FAH373)
Modern Architecture and its Representations (graduate, FAH1759)
Art and Ideas (undergraduate, FAH102)
Acoustic Space (graduate, FAH1756)
Selected Publications
Echo's Chambers: Architecture and the Idea of Acoustic Space (University of Pittsburgh Press, 2021).
Joseph L. Clarke, "The Art of Work: Bürolandschaft and the Aesthetics of Computation," in Utopia Computer: The "New" in Architecture? (Berlin: Universitätsverlag der TU Berlin, 2022), 103–21.
"The Electronic Campanile at Ronchamp," in The Sound of Architecture: Acoustic Atmospheres in Place, ed. Angeliki Sioli and Elisavet Kiourtsoglou (Leuven: Leuven University Press, 2022), 131–44.
"That Great Brouhaha: Picturing Sound in Nineteenth-Century France," in Impressionism in the Age of Industry, ed. Caroline Shields (New York: Prestel, 2019), 50–59.
"Catacoustic Enchantment: The Romantic Conception of Reverberation," Grey Room 60 (Summer 2015): 36–65.
"For a History of Liveness," Log 33 (Winter 2015): 25–37.
Honours/Awards or Grants Received
Research Fellow, Canadian Centre for Architecture (Montreal), 2021
Learning & Education Advancement Fund Grant, University of Toronto, "Canada Constructed: Teaching Canadian Architectural History," 2020–23 (with Christy Anderson)
SSHRC Insight Grant, "Open Office Design and the Acoustics of the Knowledge Economy, 1960–1980," 2018–22
Visiting Scholar, Max Planck Institute for the History of Science (Berlin), 2018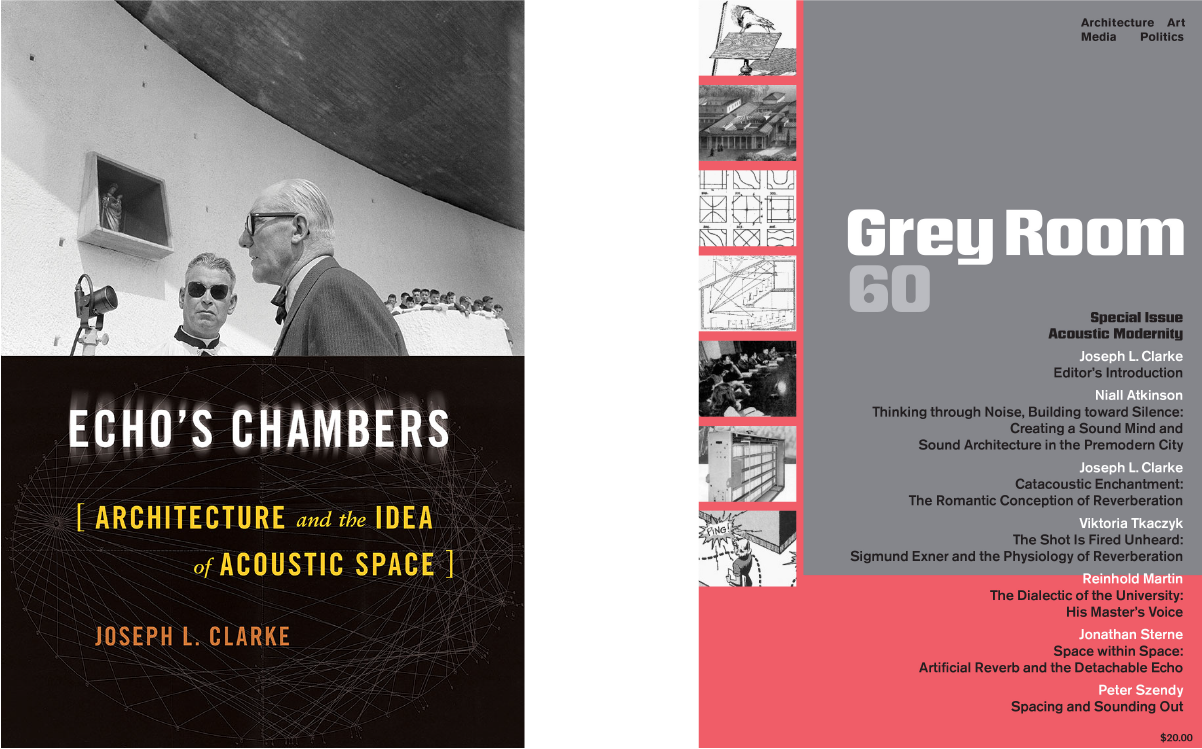 Education
PhD, Yale University, 2014
MArch, University of Cincinnati, 2006
Administrative Service
Associate Chair and Director of Undergraduate Studies, 2022–present