8th Annual Undergrad Research Symposium: Lost in Reverie
When and Where
Friday, March 11, 2022

11:00 am

to

5:00 pm
Description
The History of Art Students' Association proudly presents our Seventh Annual 2021-2022 Undergraduate Research Symposium themed: Lost in Reverie! 
To be lost in a daydream is one of the simple pleasures in life; drifting out of external reality, one can surround oneself in a personalized fantasy, a momentary instance of bliss or adventure. Silent contemplations about the deepest of philosophical questions occur within these moments of Reverie. Here, one finds the answers to that which is questioned, and the questions to that which is already answered. Artists have a unique ability to express these thoughts; whether through paint or sculpture, form or absence thereof, artists create universes in which we can become lost. In many ways, art provides a temporary escape in which we can hope for a better future, explore our darkest desires, and indulge in clandestine affairs.  This year's theme encourages exploration into how art allows us to make sense of our present world, by embracing fantasy.
This year's symposium will feature two keynote speeches by Dr. John Paul Ricco and Bea Parsons. Dr. Ricco's presentation will touch upon Rousseau's Reveries of a Solitary Walker, thinking about the pleasures of losing track of oneself. An experience that opens other realms of thought and consciousness that enable the contemplation of non-human animal lives, their unexpected appearance, and their visible and invisible paths of disappearance.
We are happy to host a special guest presentation by artist and professor, Bea Parsons. Based in Tiohtia:ke/Montreal, she holds an MFA in Visual Art from Columbia University of New York (2012) and a BFA in Painting & Drawing (2010) and Art Education (2008) from Concordia University. Parsons has taught full time at Concordia University, Montreal (2017-2019), UC Davis (2016-2015), and the University of Texas, Austin (2013-2015).
Due to COVID-19, the symposium will take place on Friday, March 11th from 11:00 to 5:00 PM on ZOOM. 
Meeting ID: 884 5429 6492
Passcode: reverie
If you have any specific questions about the event or need special accommodations do not hesitate to email us at hasa.uoft@gmail.com.
All are welcome to this event and we look forward to seeing you there!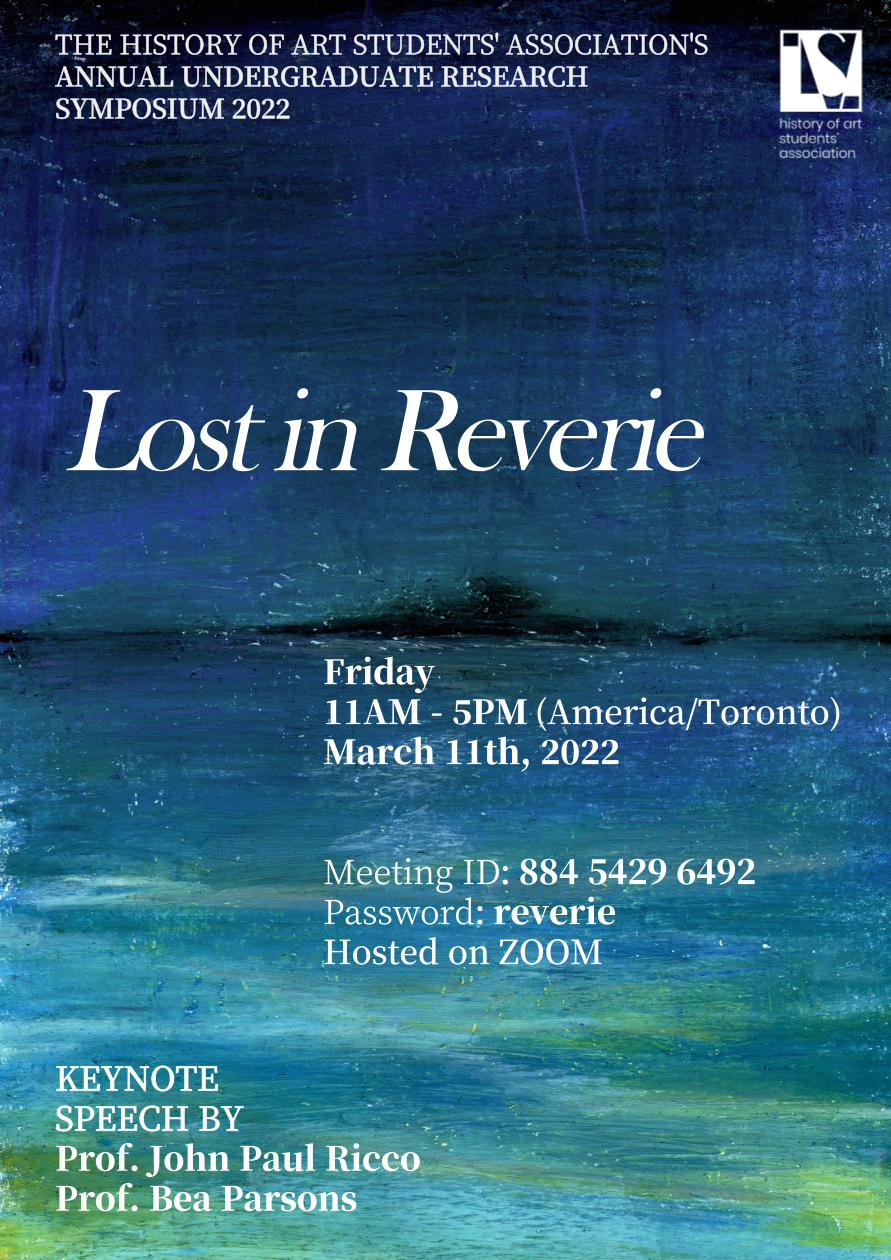 Sponsors
HASA; Department of Art History