Experiential Learning Network - "Undergraduates as Emerging Researchers: Challenges & Opportunities at the Intersection of Partners' Needs, Student Readiness, and Reality" w/ Jessica Mace
When and Where
Thursday, November 16, 2023

12:00 pm

to

1:00 pm
Experiential Learning Commons
255 Beverley Street, 3rd Floor, Toronto
Speakers
Jessica Mace
Elizabeth (Liz) Coulson
Description
Experiential Learning Network
"Undergraduates as Emerging Researchers: Challenges & Opportunities at the Intersection of Partners' Needs, Student Readiness, and Reality"
feat. Jessica Mace, Postdoctoral Fellow, Department of Art History
When and Where
Thursday, November 16
12:00pm-1:00pm
Experiential Learning Commons
255 Beverley Street, 3rd Floor
(St. George & College, above Starbucks)
About
Interested in Experiential Learning? Want to learn more but not sure where to start? Join the Experiential Learning Network! 
Arts & Science Faculty, Course Instructors, Postdocs, Graduate Students, & Staff are welcome to join. In this second meeting of the group, we will focus on student research with community partners. The Department of Art History's postdoctoral fellow, Jessica Mace, will present "Co-creating class research projects with community partners," in which she will discuss her work with EL in art and architectural history.
Walk-ins welcome, but registration preferred: sign up here.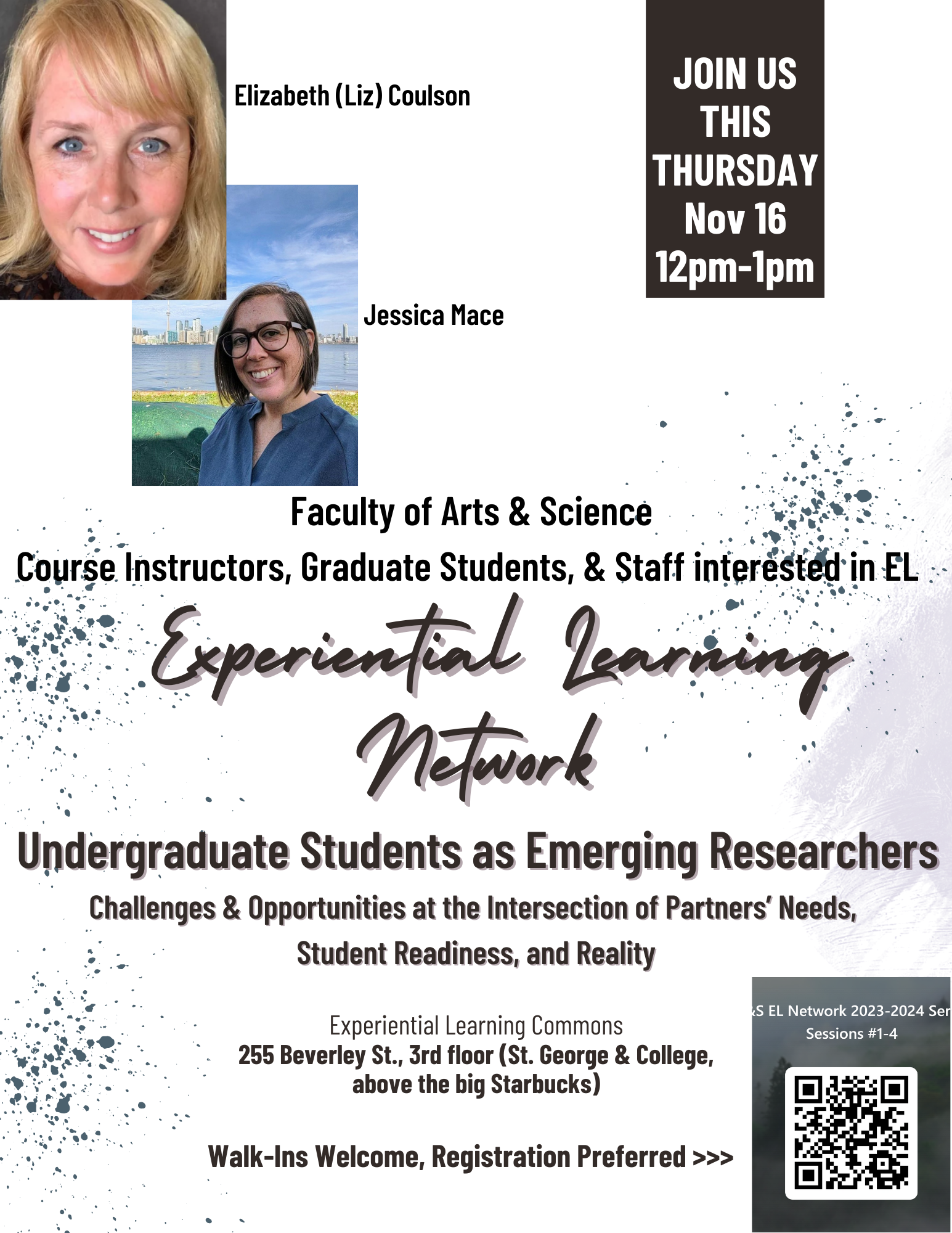 Map
255 Beverley Street, 3rd Floor, Toronto
Audiences