French Art History Lecture Series: Jean-Marie Guillouët
When and Where
Wednesday, October 26, 2022

4:00 pm

to

6:00 pm
15 King's College Circle, Toronto, ON M5S 3H7
Description
"Hyper-Technical Gothic ? A Micro-History of Late Medieval Craftsmanship (ca 1400-1530)"
Jean-Marie Guillouët
History of Art and Archaeology
University of Burgundy, Dijon
This talk originates in an incidental observation regarding one of the most well-known medieval miniatures : the Building of Solomon's Temple in Jerusalem from the fifteenth-century codex of Les Antiquités judaïques. Close examination of this image reveals numerous important details of the cultural history of Gothic construction, not least the role of technical abilities in establishing social hierarchies and the place of technical virtuosity in late-medieval craftsmanship and its role in artistic individuation. Indeed, the sculptural skills at stake, which improved continually, are intimately associated with the aesthetic experience of varietas. In this way, slate inlay fully belongs to the "technologies of enchantment" referred to by Alfred Gell to qualify, opaque systems that resist comprehension and function like many visual games, capturing the attention of the viewers.
Speaker Bio:
Jean-Marie Guillouët has been teaching art history since 2002 as associate professor at the University of Nantes and, since 2020, as professor at the University of Burgundy in Dijon. He was scientific advisor for the Middle Ages at the Institut national d'histoire de l'art (INHA) between 2008 and 2012. He has been junior member of the Institut universitaire de France between 2013 and 2018. In September 2016, he became scientific secretary of the Comité international d'histoire de l'art (CIHA) and, in this capacity, he is in charge of facilitating and coordinating scientific discussions between the various national art history committees.
He is a researcher at the laboratory ARTEHIS as well as an associate researcher at the Transition Centre of the University of Liège (where he is visiting professor during the 2021-2022 academic term) and at the Instituto de Estudos Medievais of the Universidade Nova of Lisbon. His work has focused on 14th and 15th century sculpture and architecture in France and Portugal, as well as on the question of artistic and cultural exchange in Gothic Europe. He is currently working on the social and cultural history of the technical gesture in late medieval crafts. More specifically, he has recently written several studies on the micro-architecture of the Flamboyant Gothic period and the constructive technicality of the Late Middle Ages. He is the editor of the collection "Histoire des arts. La Petite bibliothèque" at the Presses universitaires de Rennes for which he wrote the first volume devoted to the art of the 15th century.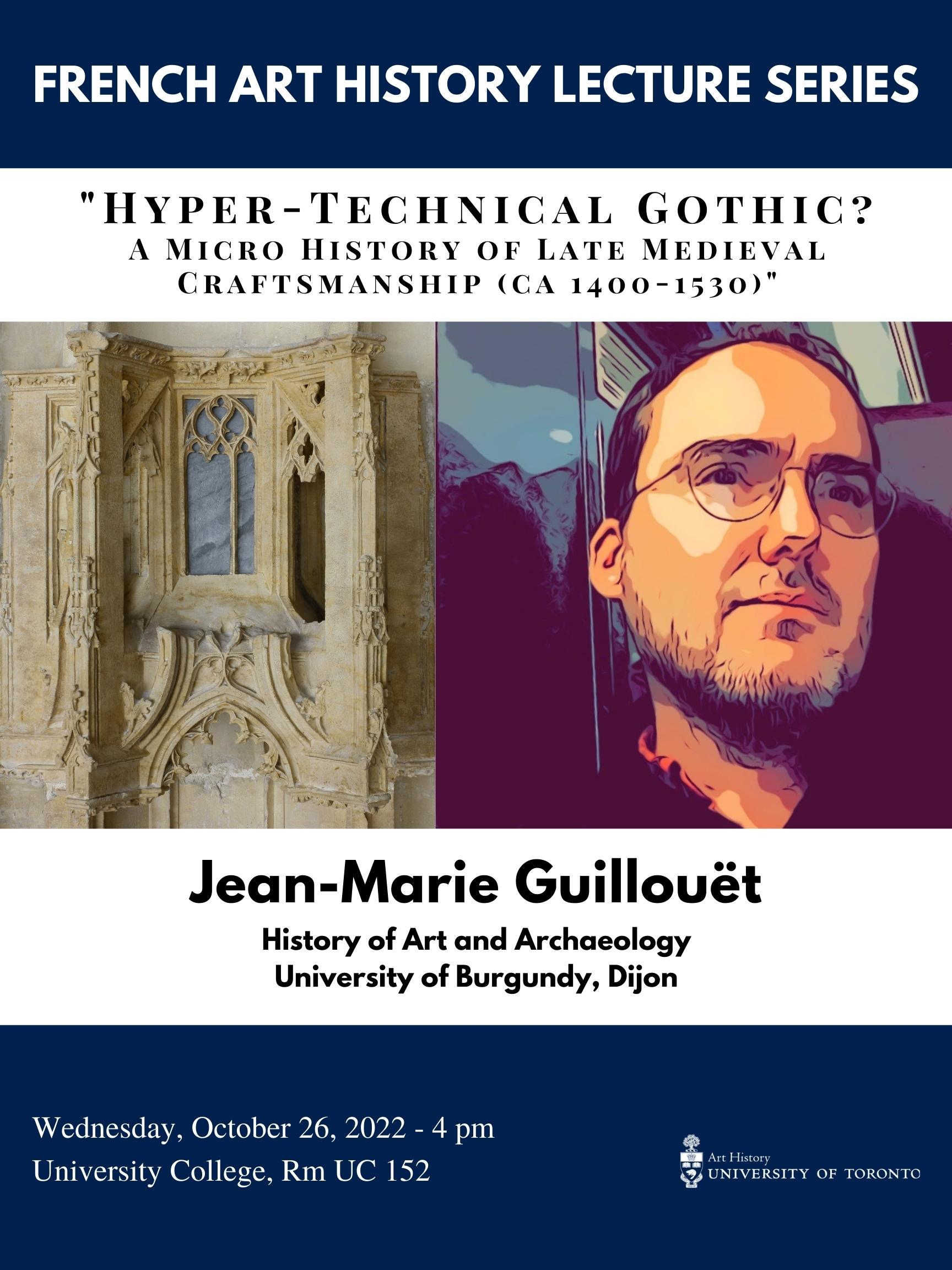 Sponsors
Department of Art History
Map
15 King's College Circle, Toronto, ON M5S 3H7
Categories