What's After the Degree?: 3 Graduate Art History Alums Discuss
When and Where
Wednesday, March 01, 2023

5:00 pm

to

7:00 pm
Art History Common Room; SS 6029
100 St. George Street, Toronto, ON
Speakers
Angelica Demetriou; Gabby Marcuzzi; Vicki Kwon
Description
The graduate office, in conjunction with GUStA, is inviting you to "What's after the degree?", an informal discussion with 3 of our Graduate Art History alumni who will discuss their career paths and experiences.  Please come and hear their stories and bring your questions. Light refreshments will be served.
This hybrid event will take place in-person and online via Zoom. Please CLICK HERE for the Zoom link.
Speakers:
Vicki Kwon 
Dr. Vicki Sung-yeon Kwon is an Associate Curator of Korean Art and Culture at Royal Ontario Museum, where she overseas Canada's largest collection of Korean art and cultural heritage. Prior to joining the ROM, she was a postdoctoral fellow at Kyujanggak Institute for Korean Studies at Seoul National University. She taught arts of Korea, twentieth-century art in East Asia, and art as social practice in the Department of Art and Design at the University of Alberta, where she received her PhD degree in History of Art, Design, and Visual Culture. She received her BA and MA in Art History at the University of Toronto. Her doctoral research examined socially engaged art in transnational contact zones facilitated by artists from Korea and Japan, focusing on representation of migrant workers, victims of wartime atrocities, and ethnic minorities in post-disaster communities. As curator, project manager, or artist and researcher, she has coordinated and participated in exhibitions held in Canada, Norway, South Korea, and Switzerland. Currently she is working on a book and exhibition project on Korean feminist art activism from transnational perspectives and an exhibition project on Korean Canadian diasporic artists. 
Angelica Demetriou 
Angelica Demetriou is the Founder and Principal of Demetriou Art Group, a fine art consulting firm that works with many of Canada's most notable private and corporate art collectors. A leader in her field, Angelica has fifteen years of experience in art advising, corporate curating, collections management, communications, and arts publishing. She is the former Director of Business Development and Communications at Tatar Art Projects where she led the firm's cataloguing and corporate projects, and previously worked as Communications Manager of award-winning design firm PLANT Architect. Angelica is an active member of the visual arts community, and has served on juries and committees including the Art Toronto Opening Night Committee for the Art Gallery of Ontario. She currently sits on the Board of Directors for the Franklin Carmichael Art Group. Angelica holds an MA in Art History and an Honours BA in English and Art History from the University of Toronto. In 2019, she was named an RBC Canadian Women Entrepreneur Awards finalist — a program that recognizes the country's leading female entrepreneurs.
Gabby Marcuzzi
Gabby Marcuzzi is a Toronto-based gallery administrator with a background in art history and museum studies. She completed her BA hons. in Art History at McGill University, followed by an MA in Art History at the University of Toronto and a graduate certificate in Museum & Cultural Management at Centennial College. Currently, Gabby is the Assistant Director at a commercial art gallery in Toronto. She coordinates exhibitions and art fairs, researches and manages the collection, and works closely with clients, artists, and other galleries. Gabby has published on the subjects of post-war American art and how the museum environment shapes visitor experiences.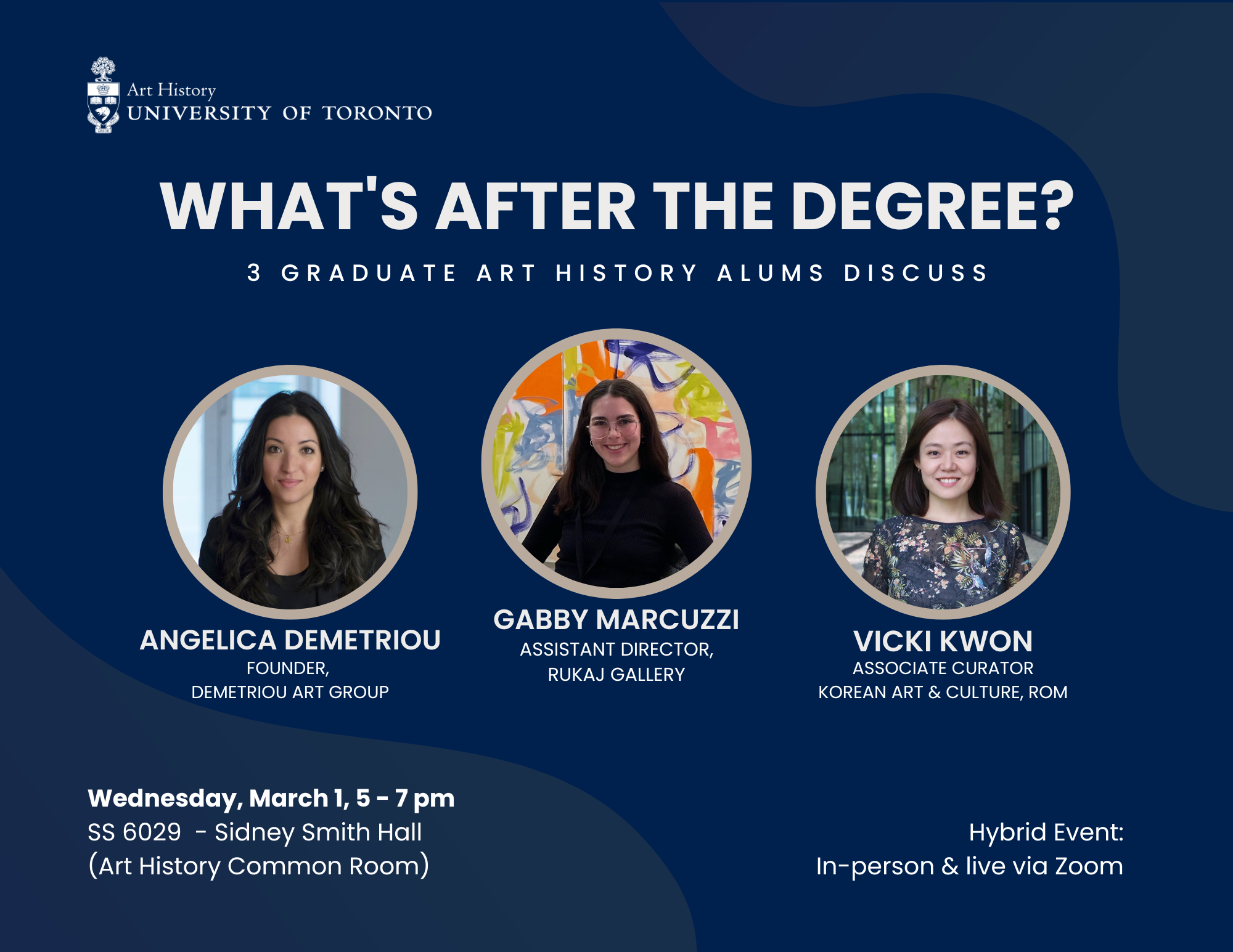 Sponsors
Department of Art History
Map
100 St. George Street, Toronto, ON
Categories