Joseph Clarke is fascinated by buildings. He loves the way they look and the ways they are designed to serve different functions.
But he mostly loves the way they sound.
An assistant professor in the Department of History of Art at the Faculty of Arts & Science who joined U of T this fall, Clarke studies relationships between architectural form, technology, and the acoustics of structures from the 18th century to the present. Trained as an architect and a historian, he is particularly interested in evolving models of how we experience the spaces in which we find ourselves. His current book, Reverberation and the Idea of Acoustic Space, explores how acoustic research has influenced European architecture since the eighteenth century.
He spoke with Arts & Science News to share what we might learn about buildings if we stopped to listen to them.
You are an architect and a historian. How do the two fit together in your work, particularly with regards to the acoustics of buildings?
My current research is on the history of acoustics and the idea of acoustic space in eighteenth- and nineteenth-century Europe, when architects were struggling to understand how sound behaves in large theatres and opera houses and, in the process, wrestling with fundamental questions about the visual and auditory perception of space.
Architects and architectural historians are typically taught to focus on the visible characteristics of buildings. But sound can affect the occupants of a building on an especially visceral level. If you spend an hour in a room with no echo or reflections of sound, you may have so much difficulty orienting yourself in the space that you'll experience dizziness, nausea, and even hallucinations!
"Good acoustics" is not a universal criterion. The way people perceive the sound of space has shifted dramatically over time. It can also be a political issue, especially in public spaces, where it often determines whose voices can be heard and by whom. Plato is said to have limited the size of his republic to the number of people who could listen to an orator without amplification. During the French Revolution, there were designs for amplification devices to broadcast the voices of political speakers to an audience of thousands. So the spatial behaviour of sound is not just a technical problem to be solved, but an important issue for cultural history as well.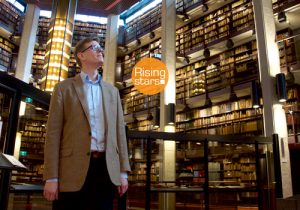 So, is it also possible to design spaces to control which voices are heard?
Absolutely, there have been many efforts to design the physical environment to enhance or suppress particular sounds or voices. Europeans started applying acoustic theory to the design of space in a systematic way in the 17th century—a palace with speaking tubes embedded in the walls so a king could give orders to his servants in distant rooms, or a dungeon where unsuspecting prisoners could be detained together that would carry the sounds of their conversations to the ears of listening guards—things like that.
Since then, acoustics has been a central design issue in legislative buildings—and also in concert halls, which are no less political, but in which conflict is redirected artistically. It's a design issue in academic buildings, too. Auditorium spaces are generally designed to make the lecturer's words as loud and clear as possible while muffling the voices of everyone else. Some of these cases seem more benign than others, but as a general principle I would argue that acoustical design is always a technique of power.
How will you be teaching these ideas to students at U of T?
I'll be teaching an introduction to the history of modern architecture and cities next term, which is open to all undergraduates. This course means a lot to me because I believe everybody has a stake in understanding how the physical environment is shaped. The city of Toronto figures prominently in the course, and my goal is to sharpen students' ability to think about of why our city is the way it is.
My graduate seminar this semester examines how 19th-century architects transformed their field in response to the Industrial Revolution, to accommodate new kinds of buildings and new construction technologies, and also to represent people's aspirations for industrial modernity.
Why did you choose to come to U of T?
I like being at a big, diverse university. My work has always been interdisciplinary, and the size and breadth of the academic community here offers a lot of opportunities to collaborate.
Toronto is booming, and for an architect, it's probably one of the most exciting places in North America right now. And I've always been interested in Canada more generally. There's been a longstanding fascination with space, landscape, and sound in modern Canadian culture—you see it in figures like Marshall McLuhan, Glenn Gould, and the composer R. Murray Schafer, who popularized the word "soundscape." In a cultural context like this, I hope to have much to contribute.
This story was originally published on the University of Toronto Arts & Science News Site (Oct. 13, 2016)
Categories
Tags