Since the COVID-19 pandemic began, many have been using quarantine as a time to revisit old hobbies and discover new ones. A&S alumna Rosie Coelho, owner of Rosie's Kitchen Co., launched a series of virtual baking and cooking classes to help people develop confidence in the kitchen. It was an immediate hit, with 50 viewers tuning into the first class. 
"For a lot of people, being in the kitchen is scary," says Coelho. "Now we're all staying home. We have to get in the kitchen. Baking seems to be an easy and comforting way to do that, especially with kids." 
As a member of New College, Coelho studied fine art in the Faculty of Arts & Science at U of T, graduating in 1990. After working in fundraising for more than 15 years, she decided to switch gears. What began as requests for Christmas cookies from family and friends evolved into a full-time career baking custom creations.  
"There's this connection that happens between people over food," she says. "When I was at U of T, I'd bake cookies for comfort and stress relief during exam time, then share them with everybody I knew. The joy I see on people's faces when they eat the goodies I make — it fills my heart." 
Baking also allows Coelho to channel her artistic side. "For Mother's Day, I made flower cookies and decorated them with edible marker. Drawing was what I loved to do in fine art and now I get to do it on cookies. It's just a different medium."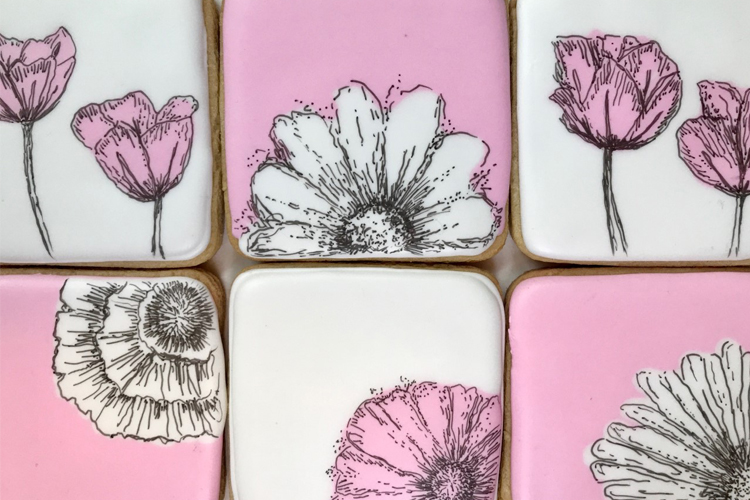 Coelho regularly shares her creations on social media, and in the early days of the pandemic, she noticed increased feedback on her posts — often with requests for techniques and family-friendly recipes.  
"A lot of parents are in the kitchen with their kids for a few reasons," she says. "One, to give them an activity that's not in front of a screen. Two, it's an opportunity to teach them a life skill. Three, an extra set of hands. Then there's the other side where people are more isolated and missing the interaction they normally get on a daily basis. Connection through baking is happening online. No-knead bread has never been so popular — it's easy, you get results, and I think people want a sense of accomplishment. This time in the kitchen is a great stress reliever."  
Over the last few months, social media feeds have been flooded with photos of homemade cookies and bread — and it's no coincidence that so many people are turning to #quarantinebaking.   
"We get a lot of comfort from food," says Harvey Anderson, professor of nutritional sciences and physiology in the Faculty of Medicine at U of T. "Certain types of foods, like carbohydrates and sweets, are particularly comforting and there's a biological and behavioural explanation." 
Carbohydrates contain glucose — the brain's primary source of energy — and stimulate the production of insulin. Insulin in turn increases the brain's supply of tryptophan, an amino acid that contributes to the production of the neurotransmitter serotonin. 
"There's an open connection between neural chemicals in the brain that control our sleep, mood, appetite, sensitivity to pain — and serotonin is a crucial transmitter in that process," says Anderson. "Baking bread or making sweets triggers the reward system in the brain in two ways: carbohydrates raising brain serotonin levels makes you feel better biologically, but you also feel better when you have something to do and concentrate on." 
While bread and sweets should be enjoyed in moderation, Anderson says, activities other than baking, such as cleaning, will also trigger the brain's reward system through the satisfaction of productivity. 
This desire to be productive — and help others do the same — is what motivated Coelho to launch her classes. "I started thinking about what people can do now that they've got time and I love building people's kitchen confidence." 
On April 1, armed with her "kitchen sink" cookie recipe, she hosted her first baking class over Zoom. 
"I knew it was a foolproof, never-picked-up-a-spatula-proof recipe that parents could easily do with their kids," she says. "The response told me I was on to something." 
Coelho has since offered a number of virtual family-friendly baking classes, as well as cooking classes geared towards adults. In one class, she taught nearly 20 people how to make risotto — and they all enjoyed dinner together over Zoom. She's also received messages from class participants who now have the confidence to make pastry dough or who cherish the time spent baking with their kids.  
"The connection food creates is fantastic," she says. "People are sharing sourdough starters, comparing notes and going on the journey together. People from my classes are baking for their neighbours. Something as simple as delivering cookies to your neighbours is so nice during this time." 
Coelho hopes that when the quarantine ends, connections over food will continue. "We'll all return to takeout and buying from bakeries, but there might be times when people say, 'No, we can do this on our own.' I think there's going to be a change in the way we relate to ourselves and our families through the kitchen." 
Rosie's Kitchen Sink Cookies
Recipe courtesy of Rosie Coelho
Ingredients:
1 cup all-purpose flour 
1/2 tsp baking soda 
1/4 tsp salt 
1/2 cup butter, room temperature 
1/3 cup brown sugar, packed 
1/3 cup white sugar 
1 tsp vanilla extract 
1 egg 
1-1/2 cups of a mixture of any of these ingredients: chocolate chips, white chocolate chips, toffee bits, butterscotch chips, granola, raisins, currants, dried cranberries, candied chocolate —like Smarties or M&M's — chopped candy bars, nuts, shredded coconut, marshmallows, rolled oats, etc. 
How to:
Preheat oven to 350℉ (180℃).  
Line a cookie sheet with parchment paper or a silicone liner. 
In a medium bowl, measure out the flour, salt and baking soda. Set aside. 
In your bowl or stand mixer, cream butter until smooth. Add sugars and mix until just combined. 
Add egg and mix well. 
Now add the flour mixture, a small amount at a time. Mix well to combine. 
Add 1-1/2 cups of your mixed goodies. Remember, you can add almost anything you want, just as long as it's 1-1/2 cups total. Mix until goodies are incorporated. Do not overmix. 
Scoop balls of dough (using either a small ice cream scoop or spoon) and place on tray about 2" apart to allow for spreading. Flatten slightly. An important thing to remember is you want all the cookies to be the same size for even cooking. 
Bake in a preheated oven for 12-15 minutes, until golden on the edges. The middle may seem undercooked but will continue to cook when taken out of the oven. 
Yield: approx. 2 dozen 
Kitchen notes
Bake as many cookies as you like. You can always freeze baked cookies or cookie dough.  
To freeze baked cookies, line a freezer-friendly container with parchment paper (or wax paper) and lay the cookies in single layers divided by parchment/wax paper. 
To freeze cookie dough, scoop out dough (as you would to bake cookies), place on tray and then freeze. Once frozen, place the dough balls into a freezer-friendly container or bag. When ready to bake, take out as many as you would like and bake in a preheated 350F (180C) oven, adding 2-3 minutes to the baking time (approx. 14-18 min). 
You can store cookies or dough up to one month in the freezer.
This article was originally published by A&S News on June 12, 2020; reprinted with permission.
Categories