In the fall of 2021, a number of students took part in the Canada Constructed internship opportunities, under the course code FAH481H1 in the Department of Art History at the University of Toronto. Here, third-year student Eny Ross reflects on her internship experience with the Architectural Conservancy of Ontario NextGen program…
---
Tell us about yourself!
Hello! I'm Eny and I'm in my third year, majoring in Human Geography and Urban Studies, while minoring in Art History. My interests lie in tech, urban planning, urban design, arts, and philanthropy. I am excited to learn about future opportunities that would enable me to bring a positive and equitable change.
I come from a visual/contemporary arts background and spent two years painting prior to pursuing academia. During my time in high school, painting at the studio for hours after class was one of the happiest and the most spiritual moments for me.

What was your internship placement and what did you do?
My deep appreciation for art, design, and architecture has led to me minor in Art History and apply for the FAH481 internship course. I was given a wonderful opportunity to work with ACO (Architectural Conservancy of Ontario) NextGen, a charitable organization that educates and helps communities and owners preserve historical buildings across Ontario. The ACO is involved in a series of architectural and heritage programs and event and enables students, and emerging professionals in the fields of architecture and heritage to learn, grow, and contribute.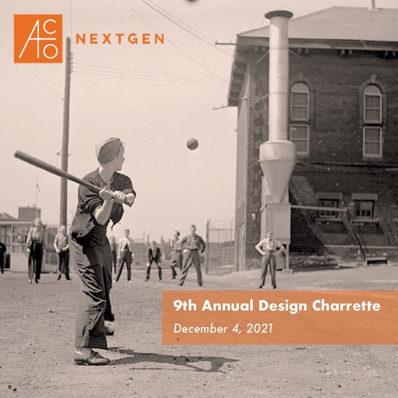 I joined the organization at the perfect time as they had just begun planning for their 9th annual Design Charrette competition. I mostly worked with my supervisor, NextGen Chair Irene Galea, to assist her and the team in organizing the event for December 4th, 2021.  The event is designed for students and emerging professionals in the field of architecture, urban planning, or heritage to join forces and present ideas for the adaptive reuse of historically preserved buildings. This year, we successfully conducted the charrette in a hybrid format (in-person and online), hosting it at the Campbell House, Toronto.
My role at ACO consisted of researching various organizations with a similar vision outside of Ontario, investigating potential sites for the charrette, drafting an information package about the chosen site for the competition, and making social media posters to promote and publicize the event.

What were some highlights of your experience and what did you get out of it?
In light of this learning experience through FAH481, I am now more confident in my abilities to contribute to an organization and a workplace. I feel like I have added great value to the team and saw positive and tangible results from my time devoted to ACO NextGen. I was able to acquire the leadership skill by taking initiatives in doing in-depth research and investigation in heritage areas; being eager to present ideas and solutions for the event. This feeling of confidence aligns with the goal I had set out for myself at the beginning of the placement, which is to take on the role of leadership and to enhance my planning and organizational skills to a great extent.
I am now more confident in my abilities to contribute to an organization and a workplace.
Before joining ACO NextGen, I had little to no knowledge about architectural heritage preservation. But now I have learnt a great deal about the field and realized its significance in our contemporary urban society. I am excited to learn about historic preservation and heritage as it aligns with my future career in urban planning and urban design.
I am thankful for all the support and mentorship I have received from Dr. Jessica Mace and my beautiful team at ACO NextGen! I would heartily recommend FAH481 to anyone who is passionate about art, design, architecture, heritage, and wishes to gain wholesome and practical skills that are transferable to all aspects of your career and personal life.
Thanks, Eny!
Want to get involved? For more information on internships, including more student profiles, visit our Internships page. Internship listings for Spring/Summer 2022 for will be posted soon!
You can also contact info@canadaconstructed.ca directly with questions.
Categories