Wenbo Wang, 4th-year art history and philosophy student, social media assistant for the Department of Art History.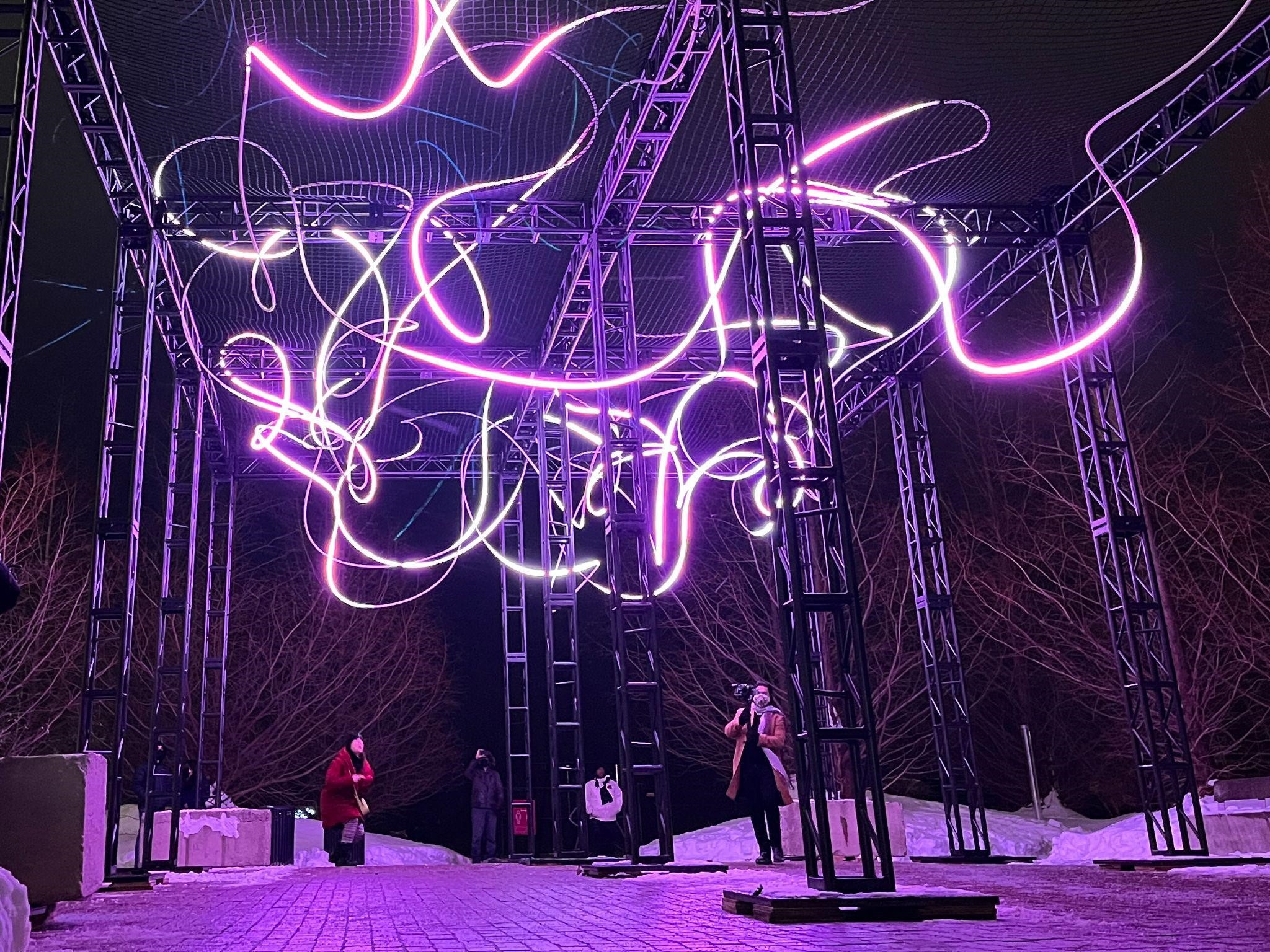 This winter season, Harbourfront Center offers us an opportunity to be immersed in spectacular light hailing from the North. Nordic Lights, a free-to-attend exhibition of Nordic and Canadian light art, opens daily from 5pm to 10pm until February 21. Co-produced by Fjord Studio, the six light installations transform the waterfront into a Covid-safe art gallery, inviting everyone to experience and interact.
"Nordic Lights is a celebration of both Nordicness and the broad exploration of light art. It is significant in these times of separation to unite artists from Nordic countries and Canada and present an expressive, poetic and inspiring exhibition, bringing light and art to everyone in Toronto," says Anastasia Isachsen, Fjord Studio, curator of Nordic Lights.
Even though the weather was a bit challenging, I went to this exhibition and would like to share my experience and some critical responses from the perspective of an UofT  art history student.
Pressure by Hans E. Madsen and Frederik D. Hougs caught the eyes from afar. It consists of a 300-metre long RGB-LED hose shaped like a doodle wrapped in the construction. Flashes of impulses whip around in the LED doodle and run towards each other while shifting colour and giving the expression of a digitally-stressed doodle.
From one perspective, the light painting seems to emerge into the cityview as if it is the neural network of the city, never-endedly transmitting signals through wires. When I was standing under this impressive construction, a sense of connection immediately came up. The viewers were like single neurons, and the impulses of light were carrying inspirations and ideas around. But this delightful experience soon transformed into stress. The bright light impulses ran in bewildering speed, heading to all directions. The uncontrollability made one almost unable to focus on a single spot such that the concentration was scattered all over the place. It is a construction of chaos-communication-transmission-stress etc., a construction of the digital world.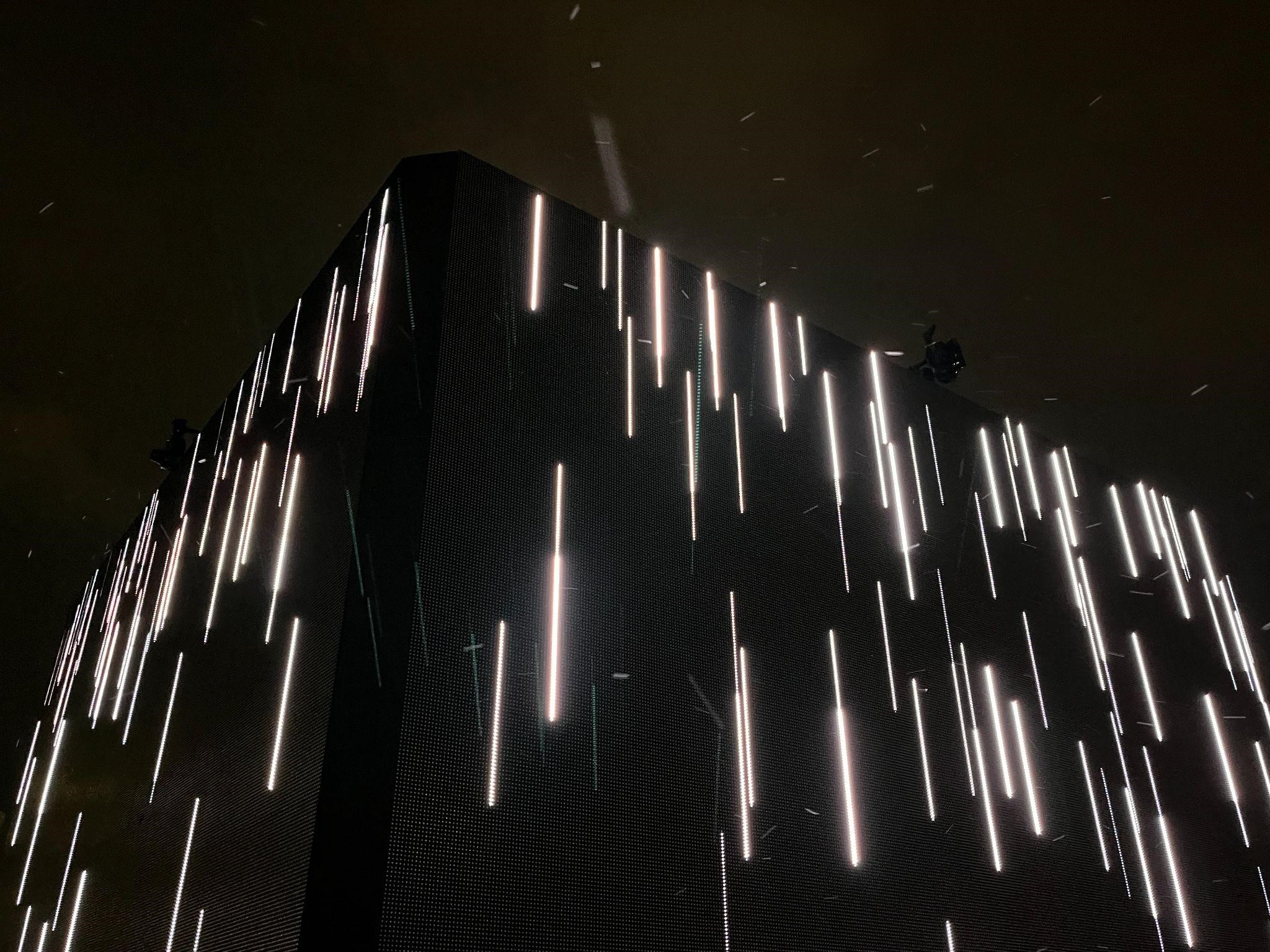 Pressure is not the only installation that concerns the relation between the digital world and our society. Control No Control by Studio Iregular is a big LED cube that reacts to touches and movements. Streamlined patterns and generative sound emerge as interaction occurs. At first glance, it appears to be a minimalist geometric structure with light stripes on its surface. Only when the viewers touch the surface will it perform the dynamic. The light strips will gather around, or be repelled by the hand, following along traces of movements.
It seems that viewers gain the total control of the installation. But other than an artwork, it is also a socio-digital experiment. If you are going to visit it, pay attention to how everybody behaves around the cube, and think about this: Are we the only ones that have control? Or the cube is actually manipulating our behaviours.
Both of the two groups of artists present their meditations on the socio-digital world through their work, but each installation would generate a one-of-a-kind experience. Besides these two spectacular installations, the other four installations perform unique perspectives on cultures,  nature and human interactions— and I have to mention that they are all interactive, so go visit and play with them!
Venue:
Harbourfront Centre Campus
235 Queens Quay West
Toronto , Canada
https://harbourfrontcentre.com/series/nordic-lights/