My name is Tatiana Thoennes, a current fourth year student completing a History of Art Specialist and a Renaissance Studies Major. Last summer, from June 24th to August 4th, 2017, I interned outside of my concentrated area of study as a volunteer archaeologist on the Sissi Archaeological Project at Sissi, Crete; and had one of the best experiences of my life. Archaeological excavations have been underway in the Aegean since before 1900 when archaeologists such as Heinrich Schliemann and Sir Arthur Evans attempted to find evidentiary support for tales told by Homer and Greek mythology. Excavating has since evolved to be more than the unearthing of tales and are now more the attempt to discover all there is to know about proto-historical civilisations. Archaeologists at Sissi, Crete celebrated their tenth year of excavation this past summer; a summer I am proud to say I was able to take part in, a summer which fueled my love for archaeology.
The excavation is directed by Professor Jan Driessen from the Université catholique de Louvain under the auspices of the Belgian School at Athens and in collaboration with the Archaeological Service of East Crete (Ministry of Culture of Greece). This past season, there was an impressively large team consisting of 69 volunteers in addition to the permanent team and workmen. The Sissi Project consists of the archaeological site and the Apothiki. The Apothiki is located off-site and is where all samples and objects found on site are brought each day; cleaned, identified, dated and stored.

Each day on (and off) site was structured with a specific timeline to ensure productivity. Everyone was expected to be there and ready to work at 06:00. We would work until Kollatzo (breakfast provided by the excavation) at 10:30 which lasted for half an hour; after which we would work until 14:00. All bags containing samples and objects found during the day, as well as supervisor notes, had to be provided to Professor J. Driessen by 14:00 and no later. After excavation was done for the day, we would have a break and were provided lunch back at our respective dig hotels. For those that did not have to go to the Apothiki, the rest of the day was free. Those on the afternoon Apothiki rotation would rest until 16:00 and then would be driven to the Apothiki to clean pottery until 18:30, leaving the remainder of the evening free. Every volunteer that wasn't already permanently working at the Apothiki was put on rotation to work selected full days at the Apothiki. Full Apothiki days started half an hour later than excavation, at 06:30. We would be picked up and driven to the Apothiki, wash pottery, break for Kollatzo at 11:00, rest between 14:30-16:30 until the afternoon shift of Apothiki workers began to arrive, and continued to wash pottery or to help organize the finds until work was done for the day.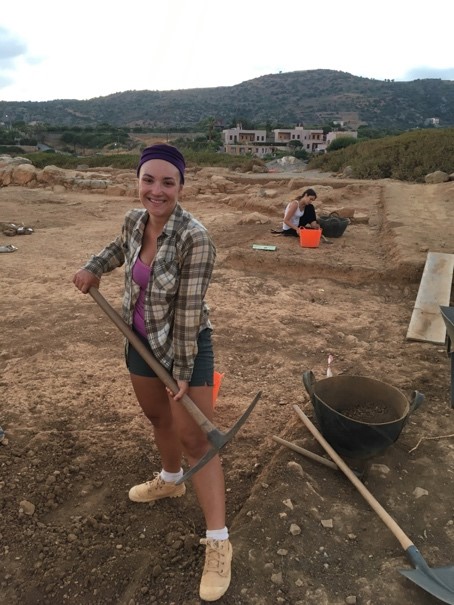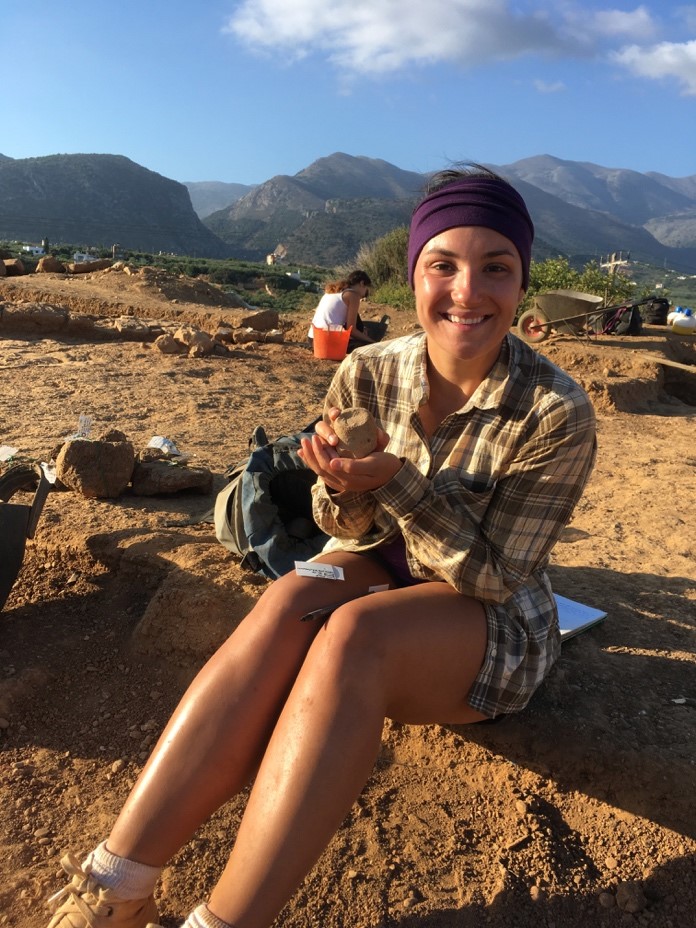 This season, Sissi was split into six dig areas, called zones. I was assigned to Zone 16: the Central Court. My Zone Supervisor and Toughbook Assistant were well versed in explaining and guiding new volunteers regarding excavation, explaining individual tasks and creating a wonderful daily working environment. The volunteers in my zone had diverse backgrounds, academically and in terms of excavation experience, which made for an exciting summer of getting to know one another. In my trench, the goal was to extend the Central Court to the south to discover the South Wall (if there was one left). Toward the end of the six-week dig season, my trench found the South Wall of the Central Court! Prior to discovering the southern end of the court, we discovered a western access point to the Central Court which was beautifully paved, and can be argued to be a processional walk way leading into the Central Court!
Though there was a lot of worked involved, there was also plenty of time for fun. I was delighted that weekends were ours to do with as we pleased. I spent almost every weekend travelling around Crete to various other cities and archaeological sites with fellow volunteers, my newfound friends. We used the first weekend as a time to relax and give our bodies some rest after being thrown into physical labour and Greece's extremely hot summer climate. On the second weekend, we went to Rethymnon and to a Minoan cemetery at Armeni (which had over 200 chamber tombs!). The third weekend we went to Knossos, traveled around Heraklion and Malia. The fourth weekend we went to Palaikastro and hiked up to the Peak Sanctuary of Petsofas. On the second-last weekend, a very close friend that I met from the USA and I went to Phaistos: we had contemplated if the long distance would be worth the trip for one day, and was it ever! The last weekend of the excavation, there was a beach party for everyone on the team as a farewell and close to a fantastic excavation season.  In addition to free time on weekends, having the evenings free meant there was time to have group dinners with fellow volunteers, time to go to the beach, and time for an awe-inspiring tour of the entire site of Sissi by its director, Professor J. Driessen.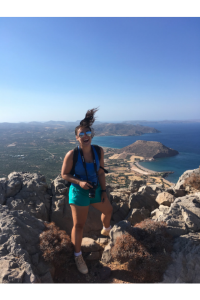 I am often asked about how I found out about the excavation, how I got on it, and how much it cost. Like many people I did not know how to get onto an excavation: I also had no idea that someone without any archaeological background or previous experience would be accepted onto a dig site. It wasn't until I met with a professor from one of my classes and asked very basic questions about how he had found his path in the academic world: it was him that suggested I try excavating, and it was him that put me in touch with the director of Sissi. Once I was in contact with Professor J. Driessen, we established I was available for the entire six-week excavation season and that I was able to (and expected to) fund my own way to Crete, and my stay during the unpaid excavation. Although funding my own way to and during the excavation proved to be rather expensive, booking my flights in advance and grocery shopping instead of eating out for every dinner brought the cost down significantly.  Lesson learned: go talk to your profs! They are wonderful people that are there to answer your questions, however basic they may seem!
Having the opportunity to live and work in a small town in Greece was a fun and eye-opening experience that had an immense impact on me. Dining at family run venues (my personal favourites were Remezzo, Paradosiako and Stam Stam!) created an atmosphere of intimacy and wholesomeness that left one feeling rejuvenated and one with Greek cultural traditions. The experiences I accumulated during excavation as well as on weekends exploring the Cretan environment re-established my passion for ancient history and has since helped direct my interest moving forward into graduate studies.
In the six-week excavation at Sissi, I grew a lot as an archaeologist and as a person. I found that I had pushed myself mentally and physically more than I had ever originally anticipated when I had left Toronto. The experience to work hands-on with history, being in the dirt trying to find quite literally the foundation of proto-historical societies, was an astounding feeling. Volunteering on this excavation introduced me to an aspect of history which I will continue to study, and hopefully, will continue to excavate.
Categories