Maneet Kaur is an undergraduate student at the University of Toronto studying Art History and Political Science. Outside of school she enjoys creating custom art pieces (@mxn.custom on Instagram), kickboxing and of course, attending arts events. In an initiative to showcase local art events/galleries, herself and another student will be visiting galleries and writing a series of reviews.
College Street is home to Toronto's Little Italy and one of its newest art spaces. This
neighbourhood is known for its variety of Spanish and Italian food and bars. Walking here you'll
find The Local Gallery, standing out with artwork displayed on a green astroturf on either side of
the front door. This bright and colourful gallery was founded to give a platform to Toronto's local
talent.
 

Walking home from Metro, I noticed this small gallery and knew I had to visit. Although it
was closed and the lights were off, I was drawn to the black and white Darth Vader sculptures
displayed in the windows. The easily identifiable reference to media and contrasting colours set
the tone of the gallery apart from others I had seen; it seemed to stray away from the
stereotypical posh art scene.
After walking through and browsing the gallery's variety of prints, photographs, and
sculptures, I was greeted by artist Pepe Bratanov (known by his artist name, Peppy Colours).
Bratanov opened The Local Gallery to emphasize local contemporary artists and their work,
citing these artists as "the cultural heartbeat of our city [Toronto]". Some currently featured
artists are Mahyar Amiri, Brent Andrew Doty, Jeffery Laine, and Peppy Colours himself.
Connecting features in the art are street and pop styles, social references (to movies, shows,
etc), and strong colours.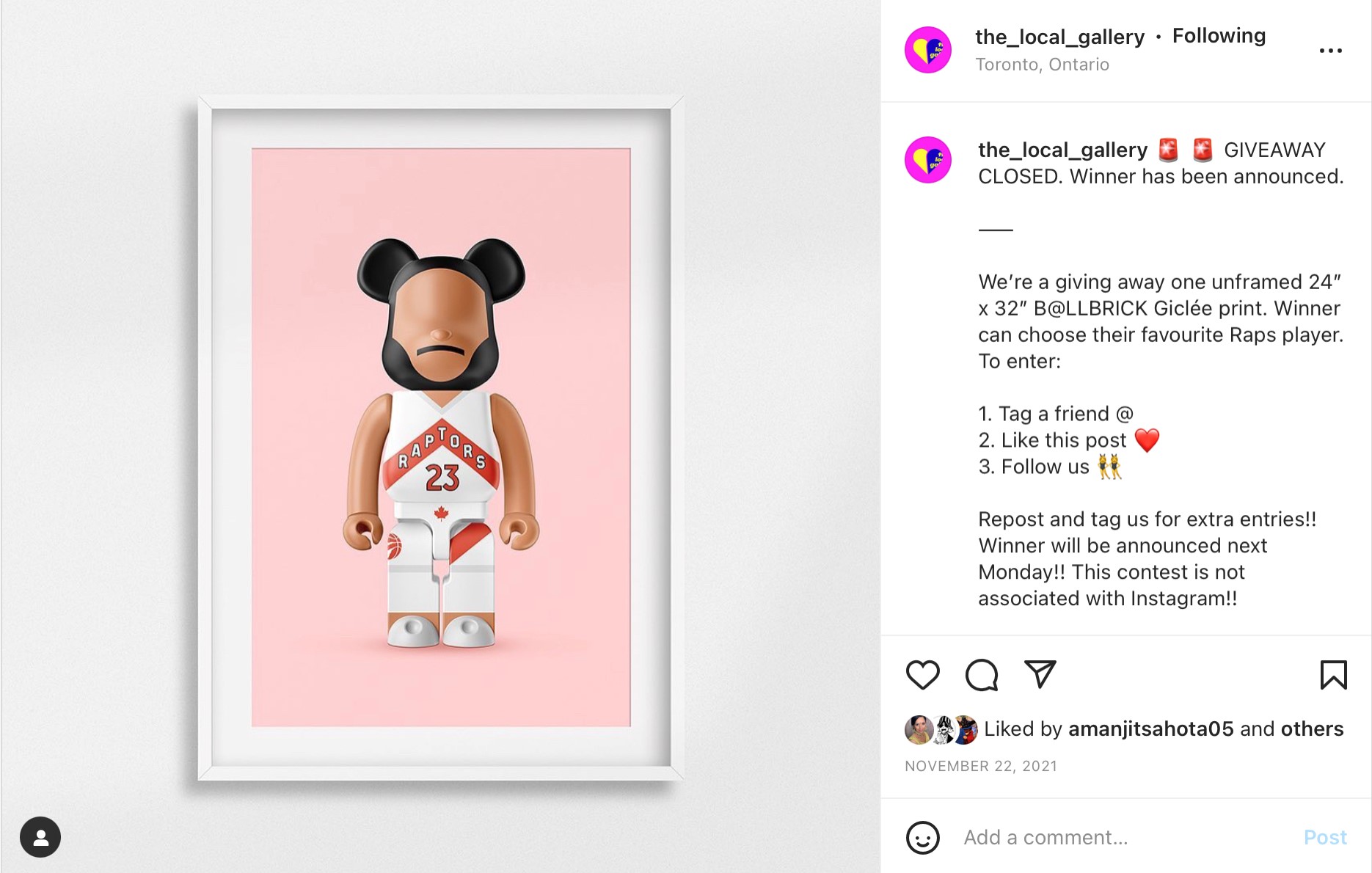 This connection to social references resonated with me specifically though Peppy
Colours' B@LLBRICK giclée print. Giclée prints are high resolution/quality inkjet prints, made to
maintain the original piece's integrity. B@LLBRICK combines popular lego figures, Disney
silhouettes, and specific players from the Toronto Raptors to create one character, in a
unification many childhood memories/references. Peppy Colours takes this collaboration of
common characters and places it on a flat pink background, setting the piece within the pop art
genre. His other pieces continue pop art themes through their use of bright colours,
recognizable references, and humor. After seeing this piece specifically, I was instantly
reminded of Friday night Raptors games, and the championship win of 2019. These displayed
prints and other artworks are available for purchase along with a variety of pins and decorative
items such as basketballs.
Overall this bright and fun gallery space is a great place to find up-and-coming local
talent. Bratanov was welcoming, willing to explain the meaning behind the gallery, as well as
answer any questions that visitors had. The arts connection to pop culture and its colourful
aesthetic differentiated it from other contemporary galleries in the area, therefore I would
strongly recommend a visit to The Local Gallery.
 
https://www.thelocalgallery.art
Opening Hours: Wednesday-Saturday, 12pm-6pm
621 College St
Toronto, ON M6G 1B5
Contact: info@thelocalgallery.art
Updates/newest exhibitions: Vanessa Michiels (Toronto local and
graduate from OCAD University)