This article is part of the Hidden Canada series – a collaboration between ACO NextGen and students from the University of Toronto. In their seminar on Canadian architecture and landscapes, students were asked to focus on little-studied aspects of the built environment in Canada, or to approach well-known places from a fresh perspective. These articles are the result of their exploration.
---
"Housing Crisis" is a buzzword often heard regarding affordability and housing in Toronto. As a Toronto resident, I know that affordable housing is hard to find, and evidence shows that over the past few decades, Toronto's affordable housing options have been decreasing.
Waitlists for subsidized housing in the Annex neighbourhood alone are over 10,000 names long and, in one case, with a wait time exceeding 35 years. The demand for affordable housing in Toronto is evident, and yet increasingly rent and housing prices continue to rise.
Examining the history of housing in Toronto reveals that rooming/lodging houses played a significant role in the lives of past Torontonians. A rooming house is a residence with multiple rooms rented out individually, where tenants share the kitchen, bathrooms and communal spaces in the home. According to Richard Harris, almost a quarter of Toronto households had one or more lodgers in 1951. Similarly, rooming houses were prevalent in neighbourhoods across the city.
I am interested in the possibility of re-introducing rooming houses as a form of affordable housing in the present. How can we use existing architecture to create more rooming/lodging style housing units in Toronto's downtown neighbourhoods?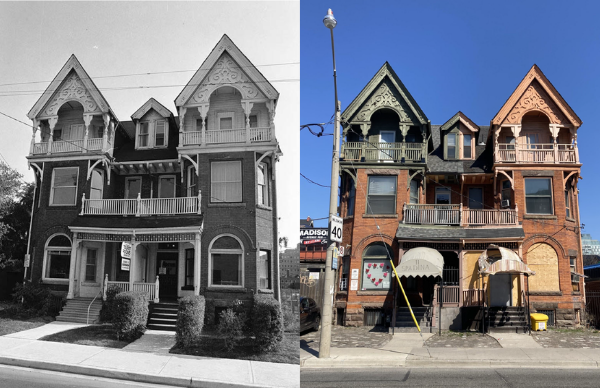 Located in the Annex, 9 and 11 Spadina Road are two semi-detached homes that give context to the past, present, and future of rooming houses in Toronto. The homes were built in 1889 and are charming examples of the Queen Anne revival style. In 1968, 9 Spadina Road was opened as the Karabanow Tourist Home. It operated as a guest/tourist home for four decades, only recently closing its doors.
In the same year, 11 Spadina Road was listed by the Toronto City Directory as one of many rooming houses in the Annex, and it still operates as a rooming house today. Changing ownership in October 2020, 11 Spadina Road is now operated as Mimos Coliving. Continuing the history of co-living in the Annex and celebrating its heritage architecture, Mimos Coliving is a multicultural, multigenerational and community driven modern rooming house.
Another example of single-family architecture used as rooming housing is 21 Walmer Road, built in 1895 in the Queen Anne revival style. It is currently serving as the YMCA Sprott House, which provides one year of supported residential living for up to 25 youth. Before Sprott House, it served as a Toronto Bible college residence in the 1960s, and the Casa Loma Inn. These homes demonstrate Toronto's history of rooming houses in dwellings intended for single-family use, creating more housing within existing communities and architecture.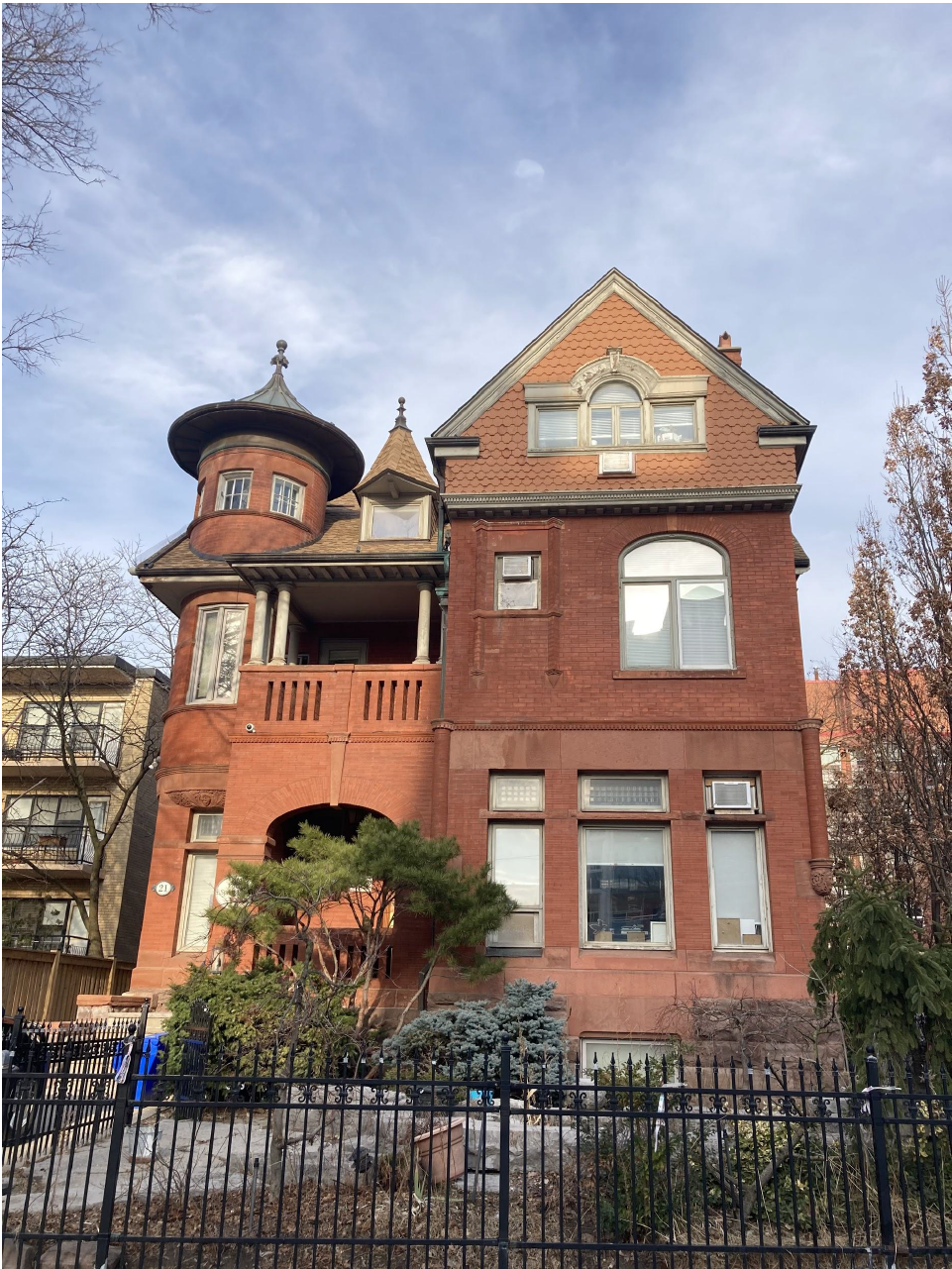 In the 1880s, wealthy Toronto residents established the Annex neighbourhood. Beautiful red brick mansions, like those discussed above, were built in the neighbourhood by Toronto's elite – creating a unique stock of architecturally significant homes. The architecture of the Annex even has its own style, established in this era of progress by notable architects such as E.J. Lennox, called the "Annex Style Home."
By the early 20th century, wealthy residents of the Annex moved farther north into neighbourhoods such as Forest Hill and Rosedale. This exodus opened homes in the Annex to a larger demographic, and many were converted into rooming houses.
Since the 1960s, Toronto's downtown neighbourhoods have been steadily gentrifying and low-income residents have been outbid and displaced by the thousands. Later in the 20th century, rooming houses were also demonized by the media due to poor conditions. According to a report by Philippa Campsie, this gentrification resulted in a net loss of 5000 housing units in Toronto between 1976-1979 alone.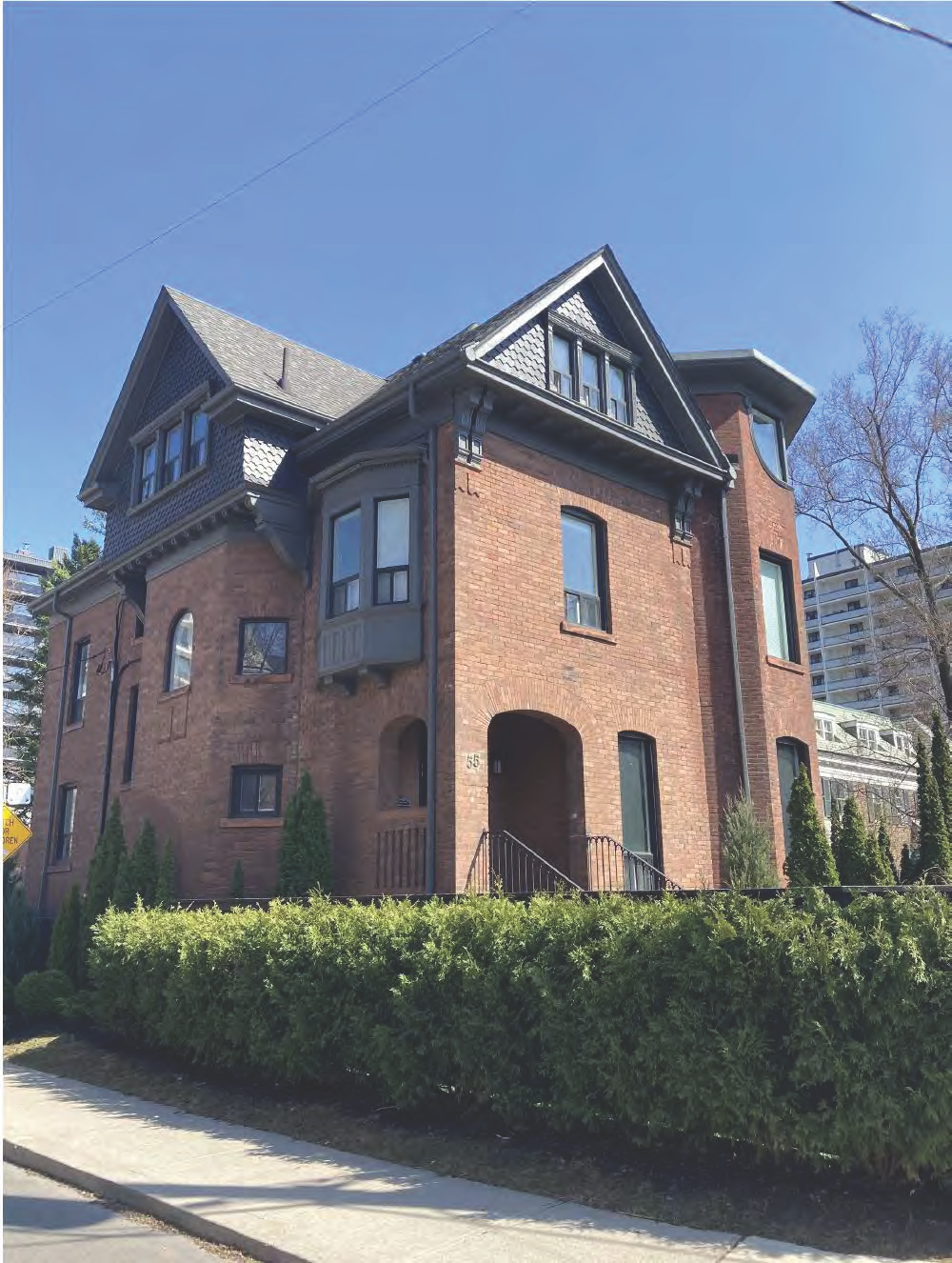 De-conversions were turning multiple-occupancy homes back into single family dwellings. This process aided in the decline of rooming houses and affordable housing units in the city. Proof of this is evident in 55 Walmer Road. Listed in the City of Toronto Directory as a rooming house in 1960, this home was sold as a single-family home for $2.9 million in 2015. It has 10 bedrooms, suggesting lots of unused space for the average Canadian family.
The distinctive architecture of the Annex has a history rooted in multiple-occupancy living. With proper regulations, support, and upkeep, rooming houses have the potential to provide effective, affordable housing in Toronto. By using existing architecture, rooming houses can be created to provide affordable options during what seems to be a perpetual housing crisis in Toronto.
This article was originally published by ACO NextGen on May 11, 2021; reprinted with permission.
Categories