This article is part of the Hidden Canada series – a collaboration between ACO NextGen and students from the University of Toronto. In their seminar on Canadian architecture and landscapes, students were asked to focus on little-studied aspects of the built environment in Canada, or to approach well-known places from a fresh perspective. These articles are the result of their exploration.
---
Built as an Indigenous, cultural and academic centre at the University of Victoria Campus in 2010, the First Peoples House (FPH) embodies traditional Coast Salish longhouse architecture using contemporary technologies.
The project's intention was to provide 'a home away from home', for Indigenous students, who often experience isolation and cultural disconnection on college campuses. To resolve the issue, architect Alfred Waugh, Chipweyan of the Fond du lac Band, partnered with the University and a committee of Coast and Straits Salish Chiefs and Saanich Elders. Together, they worked to design a space which would evoke this traditional connection alongside a technologically driven design suitable for a contemporary campus. In doing so, the First Peoples House represents an amalgamation of Indigenous tradition and modernism to create a new paradigm of modernist, Indigenous architecture.
North American settlers introduced modernism in the early twentieth century as an architectural style that embraced minimalist, linear forms over ornamented, organic structures, and incorporated steel and glass materials. Most importantly, the style has always celebrated new and innovative construction technologies. These elements of modernism certainly continue to play a vital role in contemporary architecture – which still follows many of its design principles – especially in housing and commercial structures.
However, the modernist architectures of settler and Indigenous cultures have had a complicated relationship due to the historically imbalanced power dynamic between the two. Since the beginning of colonization, the imposition of settler architecture onto Indigenous land was used as a form of dominance and paternalism. According to Magdalena Milosz' essay on the subject, the most destructive of these were Indian Residential Schools like the Norway House in Manitoba. Built in a modernist style, the school forced Indigenous children to assimilate into settler cultural norms and values.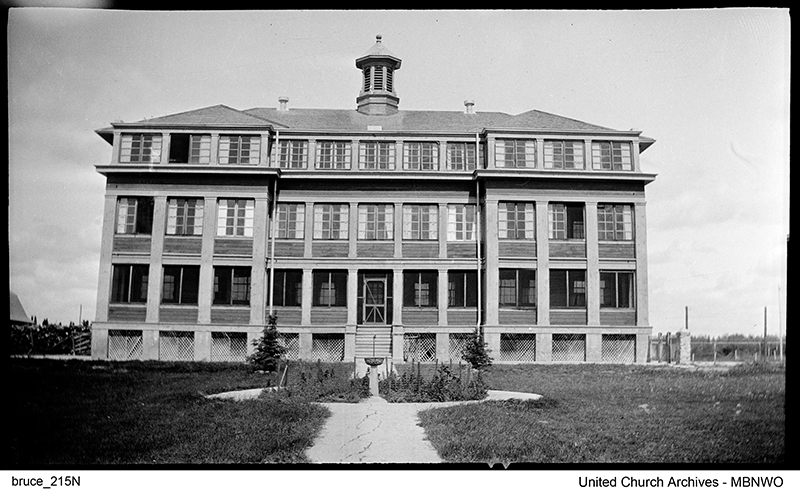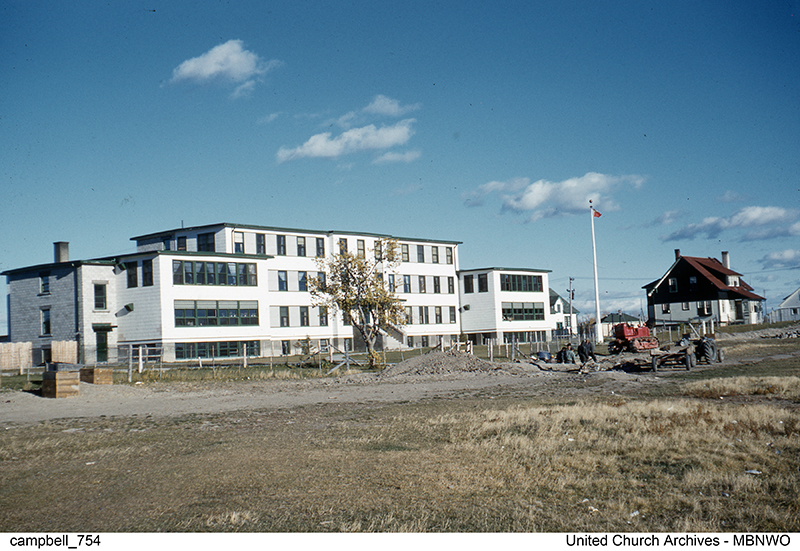 These structures had extremely traumatic effects for children, who experienced traditional and cultural annihilation within them. As the recent discovery of numerous mass graves on Residential School sites shows, the lives of these children were systemically and cruelly disregarded, and many died during their time in the Residential School System. Their communities continue to feel the effects of these colonial forms of oppression today.
But according to Elizabeth Grant's work in The Handbook of Contemporary Indigenous Architecture, Indigenous peoples can also apply contemporary buildings systems to their own cultural design schemes to regain senses of control and agency within the colonial world.
This notion is confirmed in an interview about the First Peoples House with the Down2Earth environmental series. Alfred Waugh expressed that the Elders on the design committee believed that the building represented the entrance of Indigenous students into the contemporary world. Thus, the First Peoples House represents an opportunity for reconciliation and redefining the relationship between Indigenous cultures and modernist styles to create an interesting framework for a hybrid, inclusive architectural style.
Aside from its linearity and the use of steel and glass on its facade, this intersection of modernism is clearly defined by the FPH's technological innovations. It centers contemporary, environmentally conscious design features that have rewarded the building with an LEED (Leadership in Energy and Environmental Design) Gold Certification. These elements include a planted green roof over its administration area, a storm retention pond, and a slanted waterfall stepper for rainwater collection. All this allows for increased biodiversity and provision of wildlife habitats.
The building also incorporates a natural ventilation system using mechanically operable windows, as well as strategically placed slats for air entrance. The ceremonial room even has its own particular ventilation system based on the original Coast Salish longhouse smoke-hole.
Ecological consideration and respect for natural land is an important facet of Indigenous design and culture and so it plays a significant role in this modern design. In his recent virtual lecture called 'Indigenuity' for the Daniels Faculty of the University of Toronto, Waugh stated, "First let's understand what the land says to us, and then let's decide where the buildings go."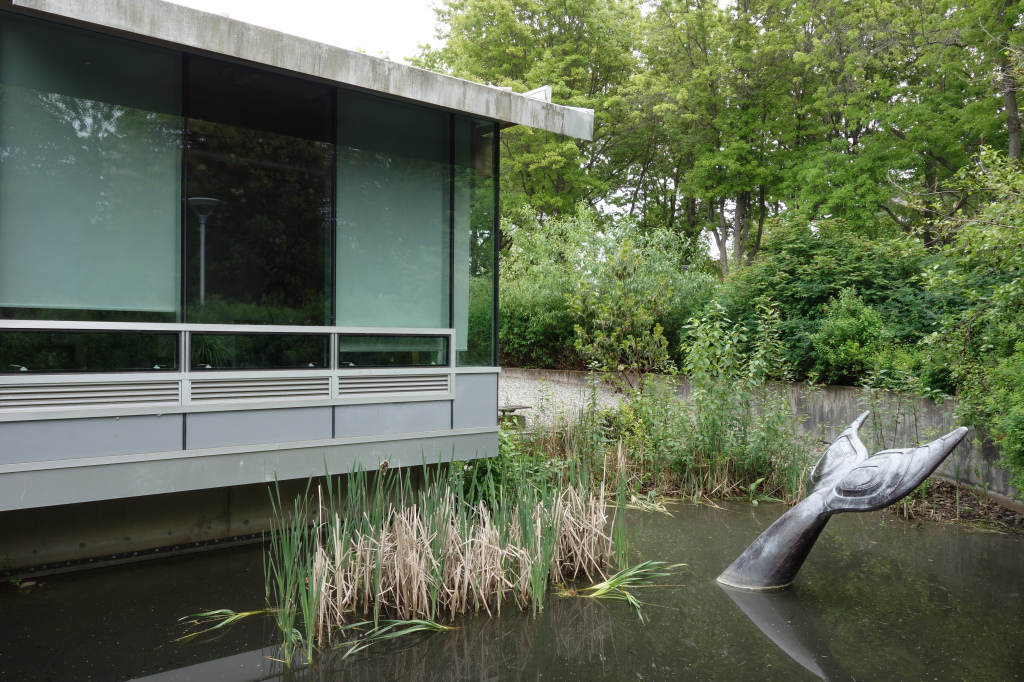 Another important element of modernist integration is its treatment of longhouse materials like timber and douglas fir glulam cladding. In regard to wood's significance to Salish architecture, Song writes in her study, "…in addition to visual and emotional connections to the 'spirit of place' our material use has physical impacts on people, economy, culture and ecology." Modern engineering technology is used to set the material, evoking the linearity and flatness of the modern design era. This allows Indigenous students to experience the spirit of the culture within a contemporary setting.
Thus, the First Peoples House frames Indigenous culture, spirituality and environmental consciousness within the modernist sphere of materiality, form, and contemporary engineering technologies. It essentially provides a framework for modernist Indigenous architecture: a built form that reintegrates Indigenous architectural culture and design on Indigenous peoples' own terms.
The project is also a valuable example for mass-scale architectural projects, as it displays the capacity for Indigenous knowledge and design tools to inform sustainable design systems.
This article was originally published by ACO NextGen on June 22, 2021; reprinted with permission.
Categories