'We are interested in using architecture to convey the idea that idling and resting isn't unproductive. It's essential'
Most art and design exhibitions demand rapt attention from visitors. Nobody would visit a gallery expecting to lay back and let their mind wander in a darkened space, where every detail has been tweaked to encourage states of rest and repose.
And yet, that type of relaxation is precisely what will be asked of visitors at the Daniels Faculty of Architecture, Landscape, and Design's new Architecture and Design Gallery when it opens to the public on Thursday.
The gallery's inaugural exhibition, New Circadia, transforms the new, 7,500-square-foot space into a darkened, cave-like environment designed specifically to coddle the body and calm the mind. The installation, curated by Richard Sommer, dean of the Daniels Faculty, in partnership with Natalie Fizer and Emily Stevenson of Pillow Culture, a New York–based interdisciplinary design studio, will open to the public on Friday until April 30.
If the idea of an architecture school designing an environment intended to put visitors to sleep sounds counterintuitive, that's mostly by design. New Circadia's curators see it as a kind of antidote to the effects of normal architectural practice.
"Architecture is inextricably bound up in the urbanization of the planet," Sommer says. "In fact, the very culture of the profession of architecture has been built on adopting mindsets and technologies that mechanize the body, facilitate long work hours and encourage a 24/7 lifestyle. Architecture marks time as much as it shapes space. We are interested in using architecture to convey the idea that idling and resting isn't unproductive. It's essential."
The project was inspired by the Mammoth Cave Experiment, a 1938 study in which University of Chicago professor Nathaniel Klietman and his student, Bruce Richardson, sequestered themselves underground in Kentucky's Mammoth Cave. There, in a primordial space, shut away from daylight and daily fluctuations in temperature, they tried to investigate what happens when the human body deviates from a 24-hour cycle of sleep and wakefulness.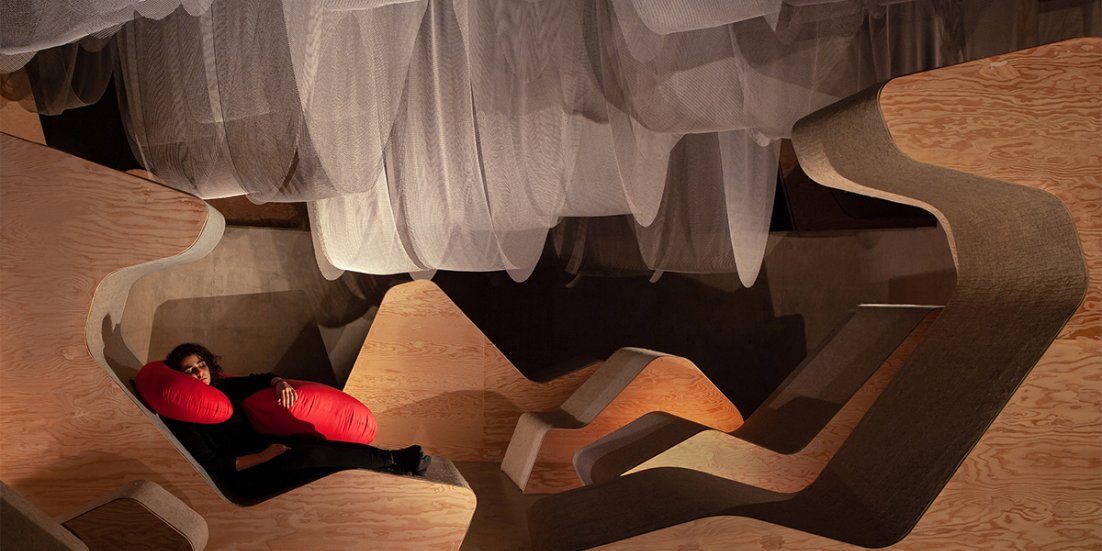 New Circadia won't require its visitors to be quite so intrepid. The installation will be split into three distinct zones. The "Transitory Zone" will be a vestibule-like area lit with CoeLux technology –artificial skylights that create the impression of perpetual daylight. Visitors to the gallery will remove their shoes and coats, and then drape their bodies with pillow-like "spelunking gear."
Once visitors are suitably outfitted, they'll enter the "Dark Zone," a dimly lit area filled with curving structures intended to resemble the uneven surfaces found in the interior of natural caves. But unlike the surfaces in a natural cave, New Circadia's "rocks" and floors will be covered with thick, soft felt. There will be subtle, cycling lights and sounds. All of this will help create what the curators refer to as a "loungescape." Visitors will be encouraged to make use of the Dark Zone's soft surfaces for self-directed rest and meditation. 
The third zone, called "Oneiroi," is a project by Assistant Professor Petros Babasikas and artist Chrissou Voulgari. Visitors will be invited to record descriptions of their dreams or listen to dreams recorded by previous visitors.
At various times throughout New Circadia's six-month run, the Daniels Faculty will host speakers, musicians, and other types of experimental performers in the space. The precise dates and times of these special events will be announced on the Daniels Faculty's website in coming weeks.
The launch of New Circadia will mark the grand opening of the Daniels Faculty's Architecture and Design Gallery, a reclaimed space on the lower level of the faculty's new home in the Daniels Building, at One Spadina Crescent. The area that is now the gallery was originally a coal storage area within the 19th-century Knox Theological Seminary's cloister. (The former seminary building ­– later the Connaught Laboratory –  has been fully renovated, and it now forms the southern half of the Daniels Building.)
The coal bin was excavated and remediated. With financial support from the estate of James Drewry Stewart and the federal government's Canada Cultural Spaces Fund, the area where the bin was located was ultimately transformed into a usable room. The new gallery is now the only large exhibition space in Toronto devoted entirely to architecture and design. 
New Circadia will run from Nov. 8 to April 30. There will be a public launch event on Nov. 7, for which free tickets are still available. For gallery hours, see the Daniels Faculty's website. Support for New Circadia exhibition was provided by the Lorne M. Gertner Fund.
This article was originally published by U of T News on November 6, 2019; reprinted with permission.
Categories
Tags