In the spring of 2023, a number of students took part in the Canada Constructed internship program, for course credit (FAH481H1) in the Department of Art History at the University of Toronto. Here, fourth-year student Kelly Zhang reflects on her internship experience with 401 Richmond/Urbanspace…
Tell us a bit about yourself!
My name is Kelly, and I'm a fourth-year undergraduate student majoring in Art History, and minoring in English and Visual Studies. I love wandering museums and the city, as well as exploring new food spots. I am also passionate about cinema!
What was your internship placement and what kinds of things did you do?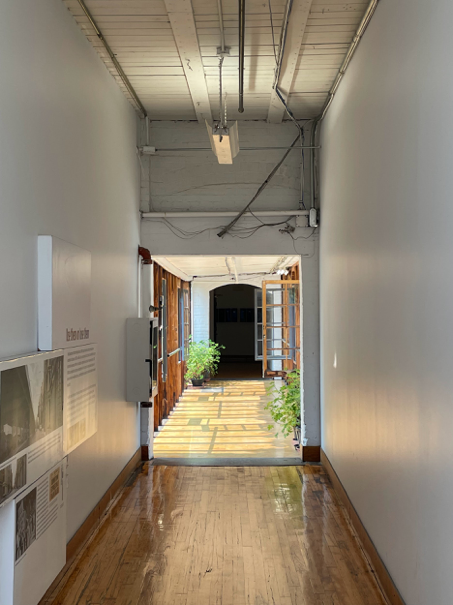 I completed my spring internship at 401 Richmond's Urbanspace Property Group. As one of Toronto's cultural hubs, 401 Richmond is always buzzing with creative energy. Under the role of Research 
Resident, I participated in meetings with artists, stakeholders, and tenants of the vibrant 401 Richmond community.
My fellow intern and I helped organize a Nuit Blanche Augmented Reality exhibit that will take place in the courtyard.
Additionally, I was able to assist my supervisor, William Huffman, in curating an exhibition of Inuit prints and drawings that is currently on display in the Lotte Gallery in Seoul, Korea.
What drew you to the internship?
I wanted to be able to gain hands-on experience in the art world, so I leaped at a chance to intern at one of the many great placements offered by the Canada Constructed initiative in the Department of Art History.
As an undergraduate student, opportunities to gain professional experience in the field are hard to come by. I was very grateful for the chance to intern at 401 Richmond, a place that I admire so much. I had been to the building a couple times before, and enjoyed all of my experiences. The restored industrial building (previously a factory), has a unique creative energy that stands out due to the amount of talent as well as the many interesting events going on. I was happy to be a part of generating quality creative output for the building.
Why should your fellow students consider an internship?
Every student can benefit from experiential learning. From sitting in on meetings to reaching out to key members in the art community, all tasks are valuable to professional growth. Completing an internship while still being at school builds a stronger resume and eases the transition after graduating. Though every student could stand to benefit from an internship, some especially helpful skills I gained in this placement are flexibility, ambition, and meticulousness. Even after finishing all the tasks at hand, it does not hurt to reach out and see what else you can assist with.
Although I was nervous in the beginning of my placement, I now have more confidence in my skills and a larger network to help me achieve my ideal career.
Thanks, Kelly!
Want to get involved? For more information on current internships visit our Internships page.
You can also contact info@canadaconstructed.ca directly with questions.
This project has been funded in part by the Government of Canada's Innovative Work-Integrated Learning program and CEWIL Canada's iHUB.
This project is supported by the Learning & Education Advancement Fund at the University of Toronto.