Online Book Launch: I Can Only Paint
When and Where
Thursday, December 10, 2020

5:00 pm

to

6:00 pm
Description
Join the MLC Research Centre to celebrate the release of Irene Gammel's I Can Only Paint: The Story of Battlefield Artist Mary Riter Hamilton, a major study of Hamilton's vast, underexplored body of war work.
SPECIAL FEATURES
Author talk and Q&A
Book giveaway
RSVP on the following Eventbrite link.
For Canadian impressionist Mary Riter Hamilton, capturing the emotional landscape of battlefields and graveyards in the months after the Great War's armistice became an artistic calling and defined her work. A woman alone after the storm had passed, she found that her life after the war was indelibly marked by the experience.
Undeterred by a rejection from the Canadian War Memorials Fund, who nominated only male war artists abroad, in 1919 Hamilton received a commission from the Amputation Club of British Columbia (now the War Amps) to commemorate those lost at war. She travelled from Victoria to the pre-reconstruction battlefields and towns of the Somme, Vimy Ridge, and the Ypres Salient where amid harsh conditions – inadequate shelter and food, surroundings littered with unexploded shells – she recorded with determination, pride, and grace the ruins of war. Based on intensive archival research in Canada, France, and Belgium, and using many previously unpublished letters, I Can Only Paint offers an insider's view of the artist's vast, underexplored body of war work and the conditions in which she created it. It places this period, central though it was, in the context of a full understanding of her life and restores the work she created there to its proper place in the canon of war art in Canada and abroad. Irene Gammel argues that Hamilton's work encoded a female perspective that distinguishes her paintings from the work of official Canadian war artists.
The first reliable account of Hamilton's impressions of Canada's most haunting sites of conflict, I Can Only Paint captures with detail and sensitivity an experience that defined her life and recovers a body of work that stands as a unique and enduring portrait of the effects of the Great War.
Irene Gammel teaches communication and culture and directs the Modern Literature and Culture Research Centre at Ryerson University.
Order directly with MQUP distributors using 20% discount code MQF2 until 31 March 2021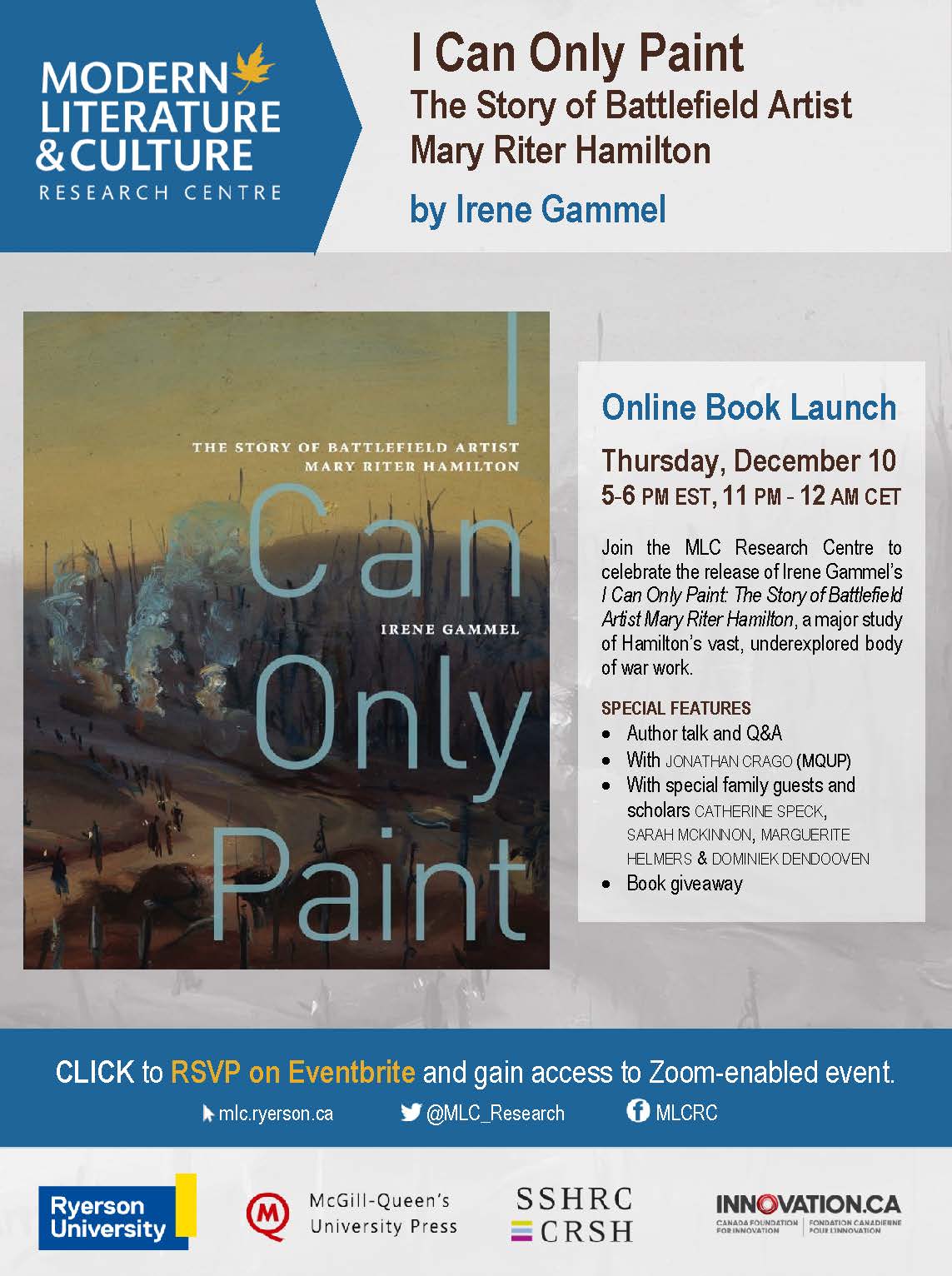 Sponsors
McGill-Queen's University Press, MLC Research Centre