Arts & Science art history students created videos for their final project to show why certain buildings in Canada should be preserved.
They were so well done, the students are hoping their assignments can have an impact outside the classroom.
Taught by art history professors Joseph Clarke and Christy Anderson, students in the Canada: Buildings and Landscapes course were asked to submit videos in lieu of in-person presentations because of the COVID-19 pandemic. The hope was to offer the students a different type of experiential learning experience.
Anderson and Clarke offered the course as part of their Canada Constructed project —  a program to develop resources and partnerships on Canadian architectural history within and beyond the University. It was funded by a Learning and Education Advancement Fund (LEAF) grant.
"Necessity is the mother of invention," says Clarke. "We had to find a way for the students to create something virtually. And we were really surprised at how well the videos worked.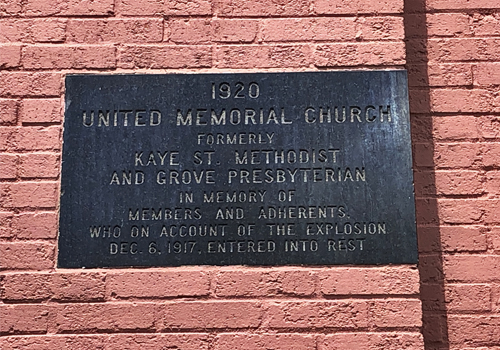 "I was impressed with not only the technical accomplishment, but with the way the students worked together in groups, which isn't easy to do these days when you can't meet in person."
"I would have to say this was one of the best projects I've ever had students do," says Anderson. "It gave them the opportunity to be creative and to really be storytellers. They brought the buildings to life."
Divided into small groups, the students submitted a total of nine videos, each featuring a building or structure in Canada that they believed was worthy of preservation. Gathering information and images through local archives, historical groups and history museums, the students not only painted a historical portrait, they explored the significant impact each building had on its surrounding neighbourhoods.
"One of the things Joseph and I found so moving was just how engaged the students became in thinking about these communities, the buildings and the importance of buildings," says Anderson.
The group that created the class's top video included students Emilie Tamtik and Rachael Krestick, who chose to showcase the United Memorial Church in Halifax. Constructed in 1921, the church was erected in memory of those who lost their lives in the Halifax explosion on December 6, 1917.
That day, more than 2,000 people died, and another 9,000 suffered injuries when French cargo ship filled with high explosives caught fire in Halifax Harbour. The church is situated at the centre of a district that was almost entirely destroyed by the blast.
The other top videos featured Montreal's Royal Victoria Hospital that opened in 1893 and was considered one of the finest hospital's in North America at the time, and Vancouver's Sinclair Centre, a group of four buildings built in the early 1900s for government offices that is now an upscale shopping centre.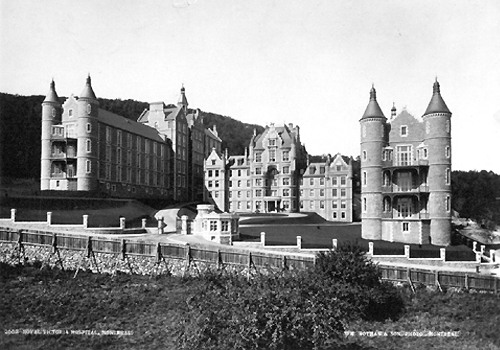 "This was in many ways a dream project for me, encompassing my love of history, media production and making a difference," says Krestick, a second-year student majoring in art history and book and media studies as a member of St. Michael's College.
"I enjoyed the reality of this project, how it may be used to save the United Memorial Church instead of being a purely theoretical or an academic exercise. It felt real and had an urgency in its creation which I hadn't experienced before."
"We got into contact with the manager of the United Memorial and were able to find out more about the church's history, as well as the current situation the building is facing," says Tamtik, a fifth-year student, majoring in East Asian Studies and minoring in art history and French as a member of Woodsworth College.
"I found myself motivated to critically consider the idea of 'value' in terms of heritage conservation and the architecture in Canada," she says. "I enjoyed the real sense of connection I developed to the material we grappled with in class."
The assignment generated important conversations about the challenges and complexities surrounding building preservation — specifically the reality that not every building can be saved.
"One of the discussions students got really into is: do you preserve things just because they're old?" says Anderson. "Do you preserve things that are painful, like residential schools?"
"It's easy to say that every old building is important," adds Clarke. "But we can't preserve every old building because of the expense and the complexity of it. We can really only choose a very small proportion of buildings to preserve. There are always going to be very complex debates. They'll be political, and hopefully they'll be informed by sort of historical expertise."
Krestick and Tamtik now want their video to inform community groups, as they advocate for the church's preservation.
"We have plans to reach out to local news providers in hopes of having the story of our video published," says Krestick. "We also intend to contact the municipal and provincial architectural conservation societies to incite a reaction amongst their circle of influence."
That's music to Clarke's and Anderson's ears.
"It's a priority for us to think about how art history students can translate their skills into applications in the real world and show them that studying art in architectural history is not just a purely abstract thing you do in the classroom. It has an impact in the community," says Clarke.
Adds Anderson, "Even as undergraduates, you can do work that has a public life."
Watch the Videos:
United Memorial Church - Heritage Conservation Video
The Endangered State of the Royal Victoria Hospital
The Sinclair Centre
This article was originally published by A&S News on January 21, 2021; reprinted with permission.
Categories