With the province entering stage three of its reopening plan, many University of Toronto services and resources – from libraries and athletic facilities to food services – will also be resuming more normal operations this fall, albeit with key COVID-19 precautions in place.
In many cases, the university has introduced digital alternatives to traditional programs or services so that students can take advantage of campus resources remotely with the click of a button.
It has also taken steps to alter the physical environment of buildings to promote distancing, manage traffic flow and remind people to wear masks indoors in common areas.
In all cases, U of T will meet or exceed current health guidelines surrounding COVID-19 in an effort to keep students, faculty, staff and librarians safe and informed on all three campuses.
Here's a closer look at how some important U of T services and resources will operate this fall.
Sport and Recreation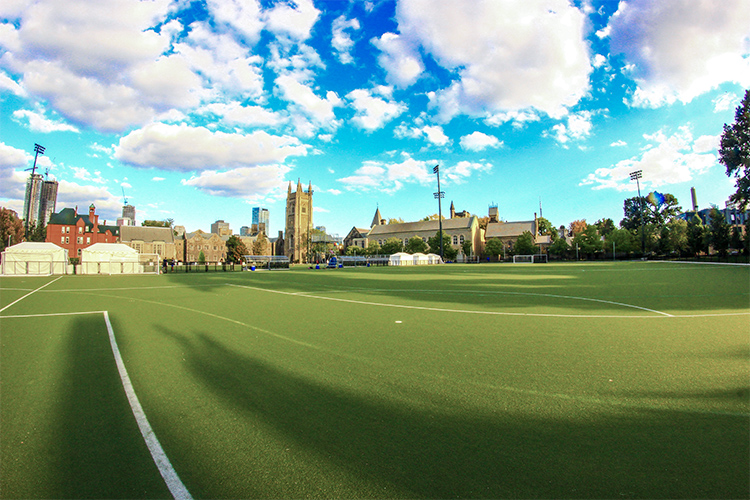 The Athletic Centre and Hart House gyms on the St. George campus will reopen by the start of the fall semester with safety measures that meet or exceed public health standards.
At the Athletic Centre, gym equipment will be spaced four metres apart instead of the required two metre-distance. Weights and machines will be moved to the field house to provide more room for distancing during exercise. Masks will need to be worn on the way in and out of the building but are not required during physical activity.
Gyms across the three campuses, like those elsewhere in the city, will require users to book a time slot for their workout.
The Olympic-sized pool in the Athletic Centre, which has been closed since the spring, will reopen with reduced occupancy.
Varsity and U of T tri-campus competitions are suspended for the semester, but students can still compete in a range of mainly outdoor intramural sports, including badminton, spike ball, table tennis and dodgeball.
"We're looking for ways to enhance the feeling of community spirit on campus and enhance the student experience while being safe," says Beth Ali, U of T's executive director, co-curricular athletics and physical activity programs.
An e-sports league, which proved popular with students after it was introduced this summer, will return in the fall. Students can challenge each other in NBA 2K20, FIFA 20, NHL 20 and Madden NFL 20.
U of T Sport and Recreation has partnered with Hart House to offer group fitness classes on the back campus starting in August, from high-intensity interval training to yoga and dance.
The Hart House Fitness Centre is planning to reopen with new safety measures in time for back to school. Pending final approvals, the centre will move to a booking system and, to facilitate physical distancing, a new entry through the north laneway. During the phased-in approach, online fitness programming will continue seven days per week, with some live broadcast classes.
"Essentially we will be focusing on fitness classes outdoors – and indoors there will be a process in place for people to use cardio, Nautilus and free weights," says Michelle Brownrigg, senior director and chief program officer for Hart House.
The Hart House pool will not reopen in time for back to school in September but is expected to reopen later in the term.
U of T Mississauga, meanwhile, is emphasizing online and outdoor fitness activities for students as part of its safe and gradual return. That includes one-on-one consultations with a trainer over Zoom and a six-week progressive running program called RunUTM, with weekly group discussions and check-ins. Outdoor facilities – fields, tennis courts and beach volleyball courts – are expected to be open for use in September with health and safety protocols in place.  
"We're working to meet the challenges of providing adaptable fitness to our students," says Andrea Carter, U of T Mississauga's assistant dean, student wellness, support and success. 
"It's important to stay active during this time, and we are hopeful that the online programming with a personal touch helps students remain engaged and look forward to outdoor activities on our fields in September."
At U of T Scarborough, students can exercise at the Pan Am Sports Centre while following certain precautions. Like at other U of T gyms, they are expected to book an appointment and wear a mask in the building. The fitness centre, training pool and climbing wall are open.
Libraries
U of T students continue to have access to all electronic resources available through the library's catalogue, including e-books, online journal article databases, primary source databases and streaming videos.
Students at U of T will also have remote access to 2.5 million books and other references through the online repository, HathiTrust. If an item isn't available through Hathi, students, staff or faculty can make a request for curbside pick-up at Robarts Library, the U of T Mississauga library or U of T Scarborough library. (U of T Libraries expects to expand curbside service to other libraries on campus, too. Please check individual library websites for updated information.)
Libraries across the three campuses will also quarantine books that are physically loaned out for at least three days after they are returned.
On the St. George campus, the Robarts and Gerstein libraries will reopen their doors, although the stacks will remain off limits. At Robarts, floors one to five will be open to students looking for a quiet place to study, as will Gerstein's main floor. Furniture in study spaces will be spaced out or taped off to facilitate physical distancing. Those who need research support can reach out via the Ask Chat with a librarian service, request a virtual consultation with a librarian or take a workshop.
Students will continue to have access to library equipment such as computers, scanners and printers. They will also be able to log into a library computer remotely to use specialized software, including data analysis and design tools.
While the family study space in Robarts will remain closed, U of T librarians are reading from their favourite picture books in an online story time for kids ages three to eight. Look for the next session on the library's workshop page.
At U of T Mississauga, the library's main floor will reopen and computers, Wi-Fi and printers will be available for use. Library staff may open the third floor for study use if there's a need for more space.
Shelley Hawrychuk, U of T Mississauga's chief librarian, says librarians are ready and available to help students online if they need advice on research or citations.
"Most of the services we offer students are available in some shape or form online," she says. "I encourage them to take advantage of these services and seek out a librarian if they need help because that's what we're here for."
The U of T Scarborough Library will reopen in the fall semester as a study space. Curbside pick-up is available while the stacks are closed. Two floors of the library will be open for physically distanced studying. Study rooms for small groups will be limited to individual use while the larger rooms will be reserved for three people.
Liaison librarians will continue to provide course support and provide online research consultations to students upon request. The Makerspace, with access to 3D printers, Arduino and Adobe Creative suite programs, will be closed, but, in the meantime, the library is offering online workshops and orientations to help students learn how to use the tools available in the facility.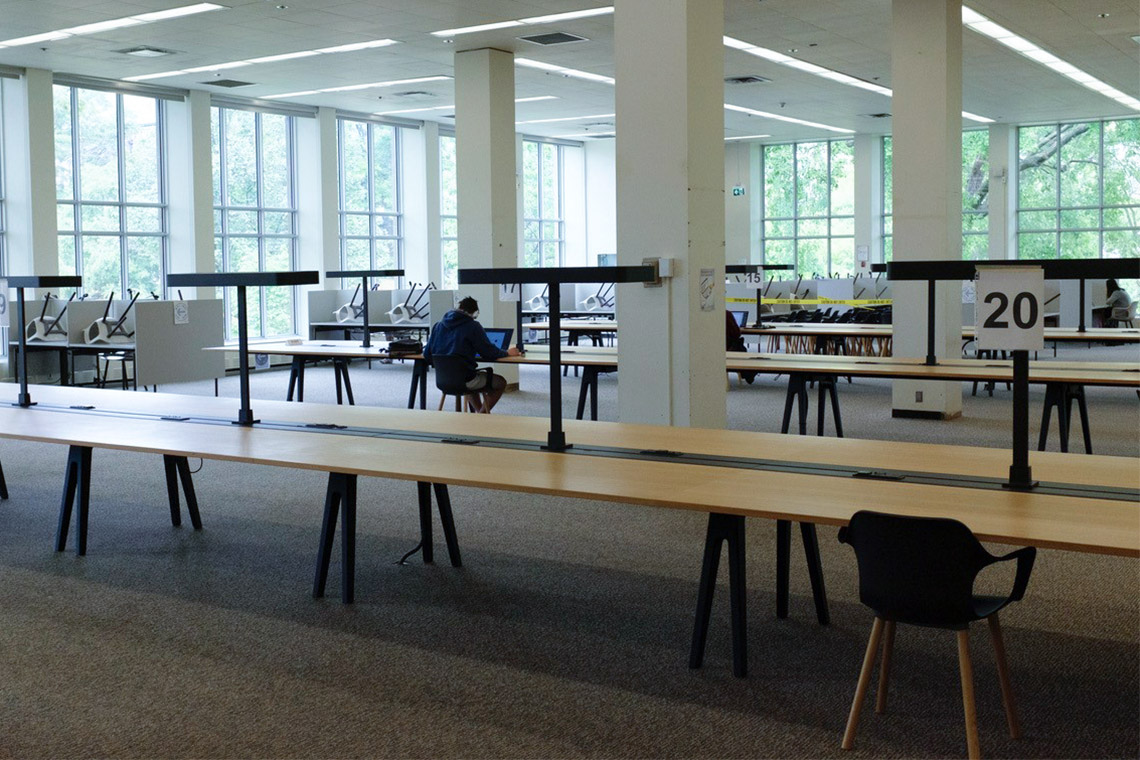 Angela Hamilton, U of T Scarborough's chief librarian, says the library will host drop-in sessions as a replacement for the reference desk to give students an opportunity to talk with staff about their assignment or research needs.
"We are also looking to collaborate with librarians across the tri-campus to offer co-curricular workshops to hone essential research skills."
Food
At a time when take-out meals are in particularly high-demand, U of T chefs have put their minds together to create a wide-ranging menu of dishes that students can grab on the go.
"The chefs have been planning menus around trying to make as many different options available for take-out as possible," says Anne Macdonald, assistant vice-president of ancillary services.
"We've increased the amount of packaged and quick-service options that are made fresh every day."
To minimize line-ups, U of T is rolling out a mobile app so students on the St. George and U of T Scarborough campuses can order and pay for their food in advance. The app's official launch is planned for the same week as students move into their dorms.
Using the app, students can order burgers à la carte or build their own with local ingredients such as Ontario smoked bacon and cheddar (a veggie option is available, too, with portobello mushroom, goat cheese and red pepper jelly). Other dishes include chicken burrito bowls, fajitas, the "not-so-classic" cobb salad and ramen.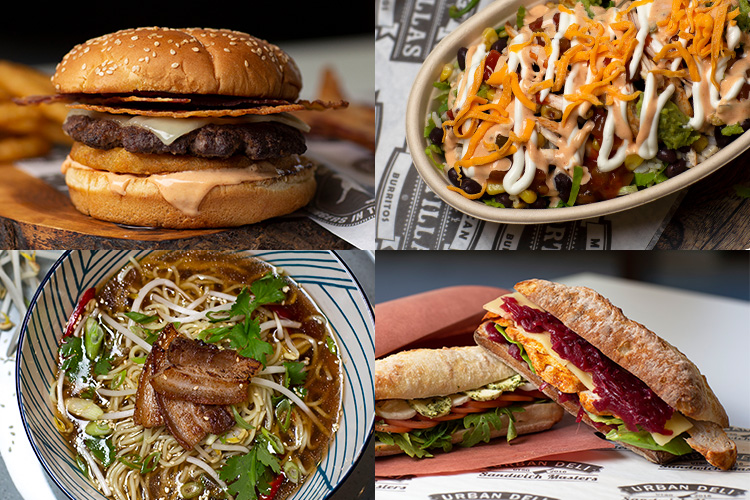 Across all three campuses, larger seating areas will be reconfigured for physically distanced eating. The university is also exploring the use of greenspace for outdoor dining.
"We will certainly encourage people to eat outside while the weather is good," Macdonald says.
At New College, for example, U of T staff are discussing the possibility of putting furniture in the courtyard next to the dining hall so students can eat al fresco.
At U of T Mississauga, diners this fall will find food services in the Davis Building and Oscar Peterson Hall. Both dining spaces have been rearranged to offer physically distanced seating.
In Oscar Peterson Hall, Colman Commons stations are open for take-out or dining in. Seasonal Chef's Table specials include surf 'n' turf steak and lobster dinner and international cuisine.
In the Davis Building, the Meeting Place stocks grab-n-go sandwiches, salads and cold drinks, along with fair trade coffees and teas and a daily hot lunch special. In early September, there are plans to debut "Sally," a new vending machine offering customized salads at the touch of a button. Temperature controls and daily replenishment of ingredients by kitchen staff means a fresh and tasty salad will be available any time of day.
Vending machine across the campus have been restocked to offer hot and cold drinks and snacks.
Hospitality & Retail Services has also opened a satellite office in the Meeting Place where staff are available to offer support services Monday to Friday from 10:00 a.m. to 2:00 p.m. in the newly renovated section of the building.
This article was originally published by UofT News on August 14, 2020; reprinted with permission.
Categories
Tags