Fields of Study
Architecture
Modern/Contemporary Art
Areas of Interest
Architecture in Canada
Modern architecture
Art in Canada
Critical heritage studies
Biography
Jessica Mace, Ph.D., is the current Postdoctoral Fellow in Canadian Architecture and Landscapes in the Department of Art History at the University of Toronto. Her research explores concepts of modernity and heritage in the architecture of the nineteenth through to the mid-twentieth centuries, particularly in housing and in industrial contexts in Canada. Her research has been supported by le Centre interuniversitaire d'études sur les lettres, les arts et les traditions; a SSHRC Postdoctoral Fellowship; The St George's Society of Toronto; and a Joseph-Armand Bombardier Graduate Scholarship (SSHRC).
Since 2015, she has been the Editor in Chief of the Journal of the Society for the Study of Architecture in Canada and currently serves as Secretary on the Executive Committee of the Association of Critical Heritage Studies. She also serves as adjunct faculty in both the Department of Urban and Tourism Studies at the Université du Québec à Montréal and the Department of Visual Art and Art History at York University.
 
Selected Publications
A medieval legacy: The ongoing life of forms in the built environment. Essays in honour of Professor Malcolm Thurlby, Jessica Mace (ed.), Montréal:
Éditions Patrimonium, 2020, 422p.
Identity on the land: Company towns in Canada (co-authored with Lucie K. Morisset), Montréal: Éditions Patrimonium, 2020, 174p.
Les communautés patrimoniales | Heritage Communities (co-edited with Myriam Joannette), Québec: Presses de l'Université du Québec, 2019
"The city as spectacle: Modernity and the urban fabric of Jarvis Street, Toronto," L'architecture de l'identité. Produire et lire l'originalité des paysages culturels. Mélanges en l'honneur de Luc Noppen, Lucie K. Morisset (ed.), Montreal: Del Busso Éditeur, 2020, pp. 44-59.
"Learning Gothic: Toronto's lost nineteenth–century school houses," Medieval Gothic architecture and its revivals: transformation and transmission through time and space, Candice Bogdanski and Malcolm Thurlby (eds.), Newcastle-Upon-Tyne: Cambridge Scholars Publishing (forthcoming, 2021).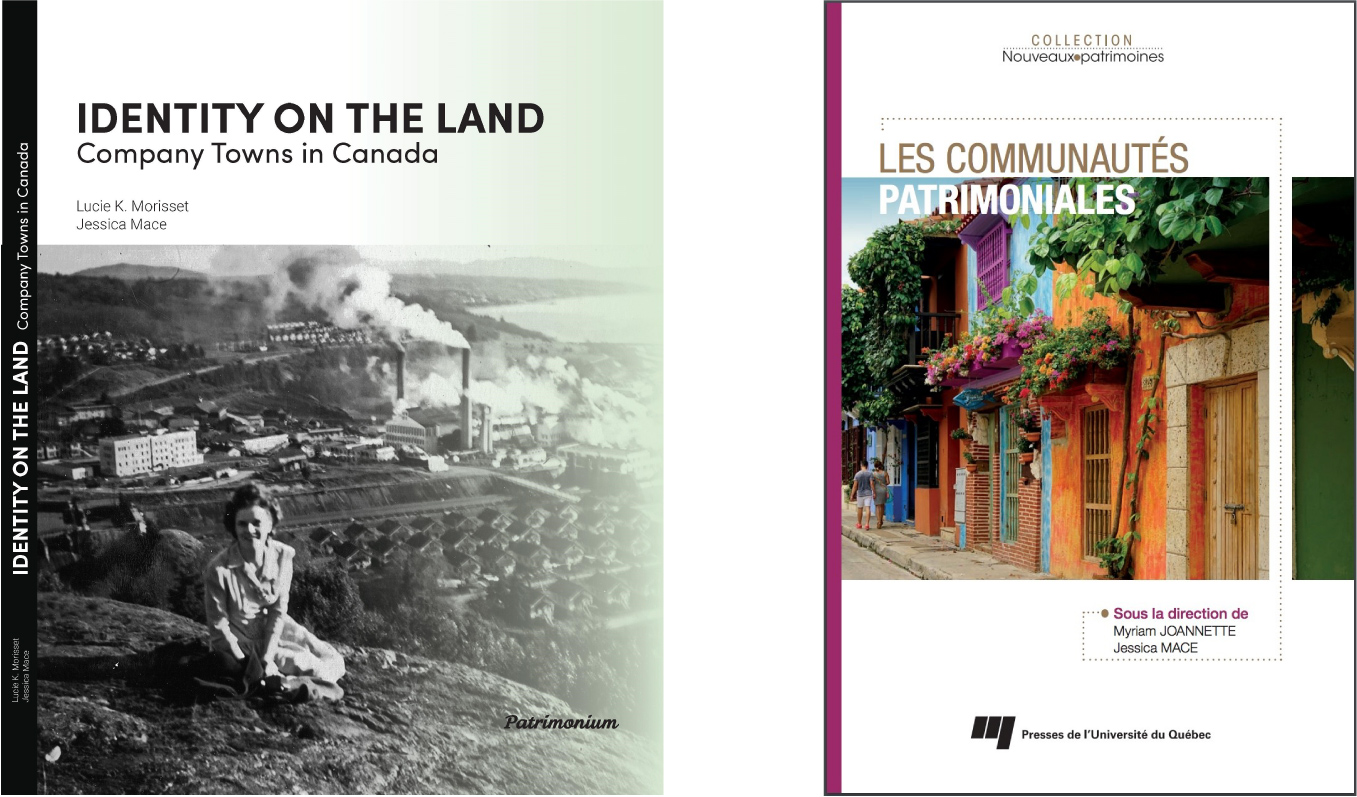 Education
PhD, York University, 2015